South Korea continues to evolve as a major e-commerce market and is expected to register a strong compound annual growth rate (CAGR) of 7.7% between 2023 and 2027 to reach KRW202.6 trillion ($160.4 billion) in 2027, forecasts GlobalData, publishers of EPI.
GlobalData's E-Commerce Analytics reveals that South Korea e-commerce market has been on growth trajectory, registering a CAGR of 17.4% between 2018 and 2022 to reach KRW136.6 trillion ($108.2 billion) in 2022. This trend is expected to continue in 2023, with e-commerce sales expected to grow by 10.0%.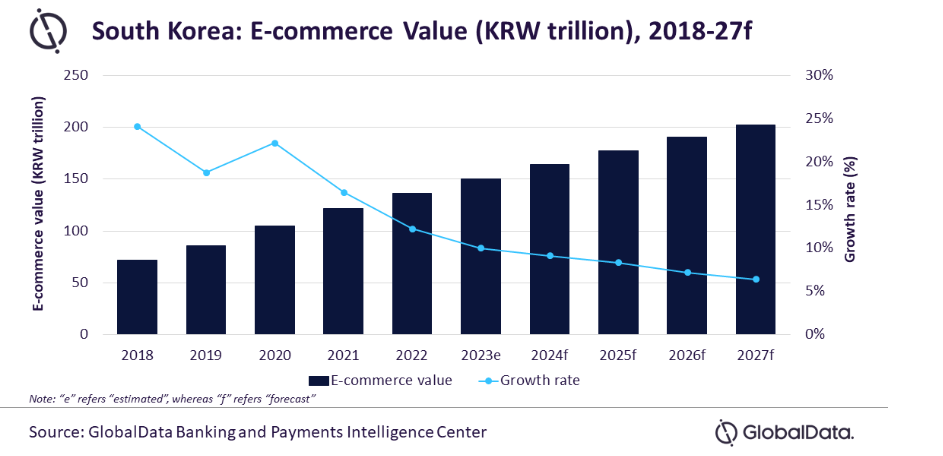 Shivani Gupta, Senior Analyst Banking and Payments at GlobalData, said: "South Korea has a well-developed e-commerce market supported by high-speed internet, rising smartphone penetration, availability of secure online payment systems and increasing consumer confidence in online shopping."
South Koreans are frequent online shoppers with over 80% of the consumers reported to have shopped online in the past six months, while only 10% indicated that they never shopped online, according to GlobalData's 2023 Financial Services Consumer Survey.
Naver leads, international brands are increasingly active
The availability of new and innovative mode of online shopping such as video live streaming is also encouraging shoppers to go online. South Korean e-commerce giant Naver leads this space by enabling merchants to live stream their products on its "Naver Shopping Live" platform. Customers can view the product details, interact with the seller and buy from the platform on real-time.
International brands are also venturing into this space, contributing to the e-commerce growth in the country. In June 2023, YouTube launched its first official online shopping channel in South Korea, live-streaming products in Korean language.
Gupta added: "Koreans increasingly prefer shopping online even for day-to-day products, a trend that continued post COVID-19. GlobalData's survey revealed that everyday essentials such as food and drinks account for nearly one fourth of the e-commerce purchases by value in 2023, while clothing and footwear account for 12.2%.
Gupta concluded: "South Korea's e-commerce market registered sustainable growth during the last five years. The uptrend in e-commerce sales is likely to continue over the next few years supported by the growing consumer preference, improving payment infrastructure, and growing popularity of innovative online shopping modes."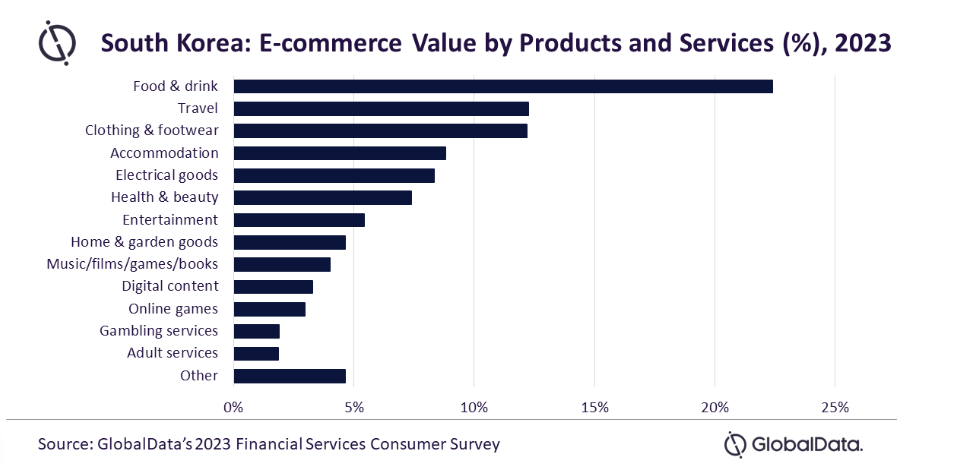 *GlobalData's 2023 Financial Services Consumer Survey was carried out in Q2 2023. Approximately 50,000 respondents aged 18+ were surveyed across 40 countries.