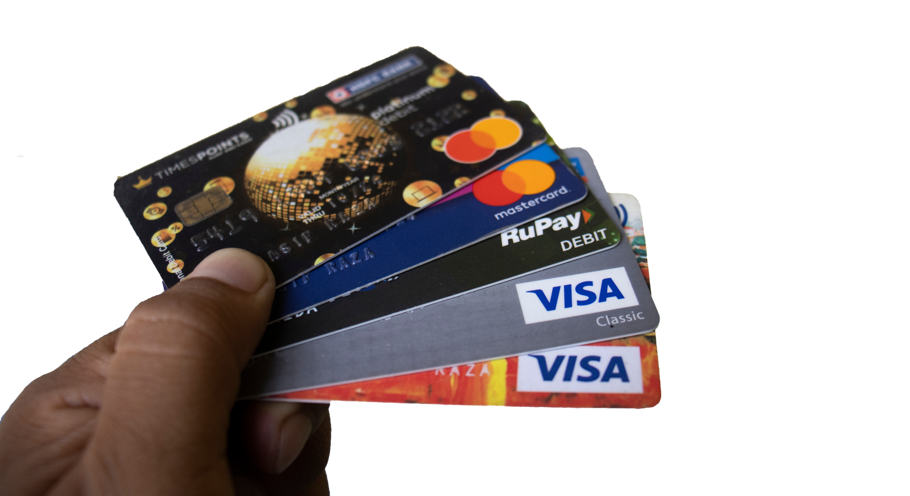 India has made remarkable progress in the adoption of non-cash payments in recent years, supported by the government's push for digital payments and improvement in payments infrastructure. The card payments market in India is estimated to grow by 28.6% in 2023 to reach INR27.9trn ($337.1bn), forecasts GlobalData, publishers of EPI.
According to GlobalData's Payment Card Analytics, card payments value in India registered a robust growth of 26.2% in 2022, driven by economic growth, consumers' increasing preference for electronic payments, and constant efforts by financial authorities to boost cashless payments. The strong growth momentum observed in card payments value is expected to continue in 2023.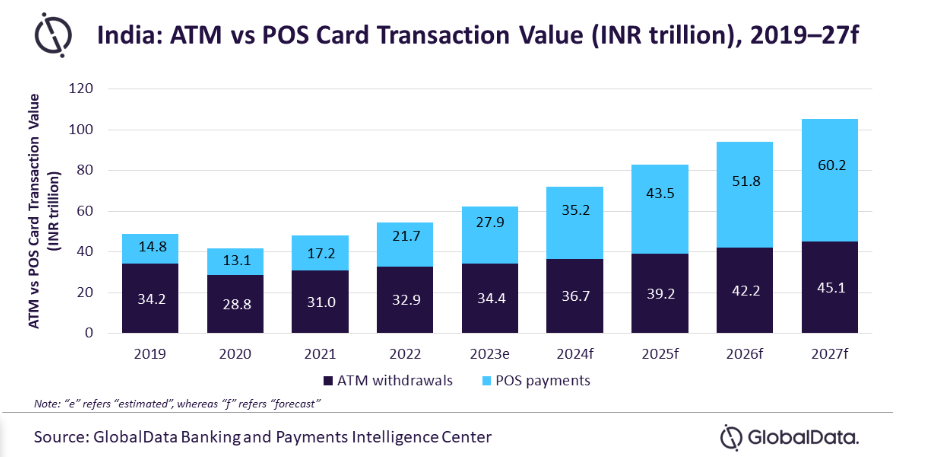 Reduced merchant service fees and government subsidies boost cash displacement
Kartik Challa, Senior Banking and Payments Analyst at GlobalData, said: "India has traditionally been a cash-driven economy, however, the usage of cash for payments is on the decline. Government measures such as reducing merchant service fees and providing subsidies to merchants for installing point of sale (POS) terminals are some of the key factors behind card payment market growth in the country."
While there has been a robust rise in card usage for POS payments, including both at physical POS terminals and online, its usage for cash withdrawals at ATMs is gradually slowing down. In 2023, ATM cash withdrawals are estimated to increase by just 4.6% to reach INR34.4trn ($416.2bn). The pandemic also highlighted the importance of non-contact payment tools, thereby benefiting card payments.
Challa added: "To drive card payments and reduce dependence on cash, the government abolished merchant service fees on transactions with state-owned RuPay cards from January 2020, encouraging merchants to accept payments with RuPay cards. Further, the Reserve Bank of India (RBI) allowed banks to levy cash withdrawal charges up to INR21 per transaction beyond the monthly free transaction limit, from January 2022, thereby discouraging cash usage."
Contactless transactions rise 6x in just three years
A new trend that the country is witnessing is the gradual adoption and usage of contactless payments. Although contactless card payments are not very popular in India, they are slowly gaining traction, with a rise in demand for 'touch-free' payments since the outbreak of the pandemic. To push contactless payments, the contactless payment limit was raised from INR2,000 ($24.20) to INR5,000 in January 2021.
According to a whitepaper released by Visa and Worldline in June 2022, the share of contactless card payments in total face-to-face card transactions in India grew by more than 6x – from less than 2.5% in December 2018 to 16% in December 2021. Quick Service Restaurants (QSRs), pharmacies, food, groceries, and supermarkets are some of the merchants, which registered increased contactless payments.
Challa concluded: "Consumers in India are increasingly embracing electronic payments, gradually moving away from cash. While mobile wallets have been the major beneficiary of this trend, card payments are also on the rise, with growing consumer awareness about card benefits and rising merchant acceptance. Card payments are expected to grow at a strong compound annual growth rate (CAGR) of 21.2% over 2023–27f, compared to a much slower CAGR of 7% forecast for ATM cash withdrawals during the same period."