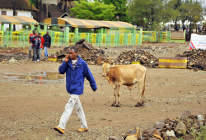 Bob Collymore, chief executive of Kenya mobile operator Safaricom, has warned against increased taxing of the telecommunications industry in Kenya.
The chief executive said, "After a fierce price war that began in 2010, all the damage it caused is now behind us. But increased taxation in the telecommunications industry is casting a dark shadow on the industry, especially money transfer services," at the firm's 5th AGM.
Collymore continued "Mobile money is still new in Kenya and should not, therefore, be subjected to this huge tax burden, something that affects the poor who rely heavily on these mobile money transfer services."
With the Finance Act of 2012, the Kenyan government introduced a tax of 10% on mobile money transfers. In the budget for 2013-2014 the government announced the charging VAT on mobile handsets.
In regard to VAT, Collymore said "Our lowest price handsets cost Sh850 ($9.70) so we do not expect VAT on handsets will have any significant impact. But we believe VAT on consumer items will put pressure on life for many households."
Collymore added "more than KES 28 ($0.31) out of every KES 100 ($1.14) charged to a telecoms customer went to the tax office, making Kenya's telecoms taxes amongst the highest in the world."
Safaricom, the Kenyan mobile operator, is to allow customers to pay their rent through its M-Pesa mobile payment scheme.
Related articles
M-Pesa transfers decrease as new tariffs sink in
Safaricom allows customers to pay rent by M-Pesa
E-payment parking trial launched in Nairobi
Kenyan government to investigate M-Pesa transactions above $3,500