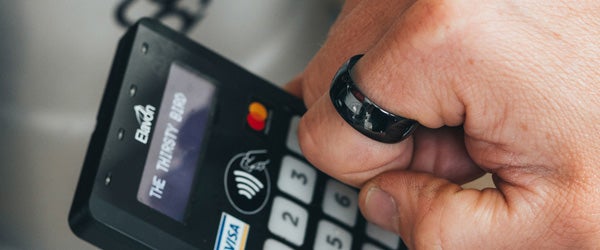 Payments company K Wearables has selected Moorwand to provide BIN sponsorship and digital banking services for its contactless payment ring.
K Wearables' migration to Moorwand is driven by next phase growth as it evolves the product suite and expands internationally.
Luc Gueriane, Moorwand COO, said: "K Wearables is a pioneer of wearable payments with its contactless payment ring. Consumers need a variety of payment options to suit a variety of contexts and needs. As the market evolves, payments will become increasingly invisible and made between devices, as well as people.
"Such a groundbreaking market proposition needs a different approach to issuing and BIN Sponsorship, ensuring compliance enables innovation, rather than inhibiting it. By supporting K Wearables' product and market ambitions we will be taking our place in history."
The K Ring
The K Ring is the world's first contactless payment ring, allowing users to pay for goods and services by placing it over a card reader.
Additionally, the ring is linked to a virtual Mastercard and can make payments in-store up to £45 in the UK. It can also be used on Transport for London and other transit systems nationally.
Philip Cambell, K Wearables founder, said: "No fintech is an island. Collaboration with the right partners is what distinguishes a great idea from a great product – one that's a step ahead of consumer expectations and other market offerings. Moorwand bring a fresh collaborative approach, which made it a natural choice as we look to supercharge our next phase of growth."
Wearable payments have gained traction in recent times, with the wearable payments market set to grow to $1.1bn by 2026. To capitalise on this, K Wearables hopes to expand into a variety of markets across Europe.
Furthermore, the company has plans to expand its product offering by leveraging Moorwand's future capabilities. These include merchant acquiring so users can top-up their accounts with a variety of payment methods.