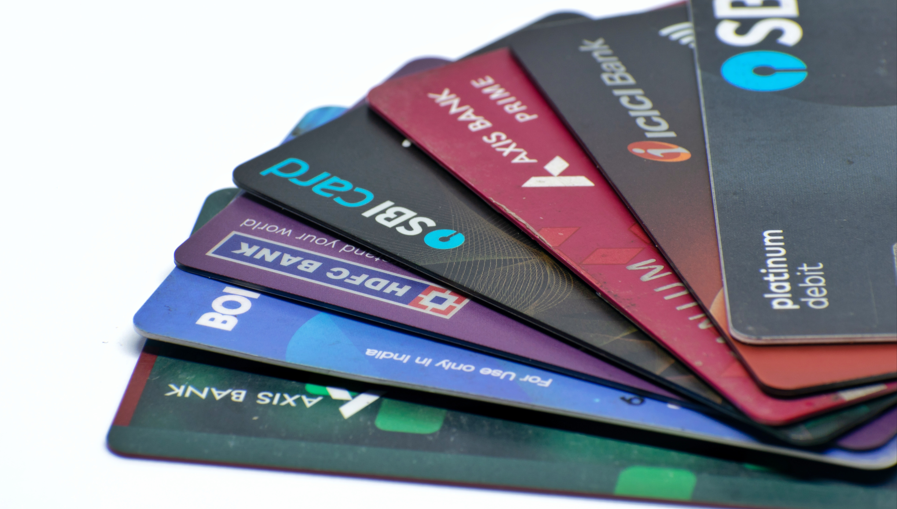 India's card payments market is expected to almost triple from INR21.7trn ($262.1bn) in 2022 to INR60.2trn ($728.2bn) in 2027, driven by rising consumer spending, says GlobalData, publishers of EPI.
GlobalData's Payment Cards Analytics reveals that card payments value in India registered a strong growth of 26.2% in 2022, supported by the improving economic conditions. This trend is expected to continue in 2023 and set to grow by 28.6% to reach INR27.9trn in 2023.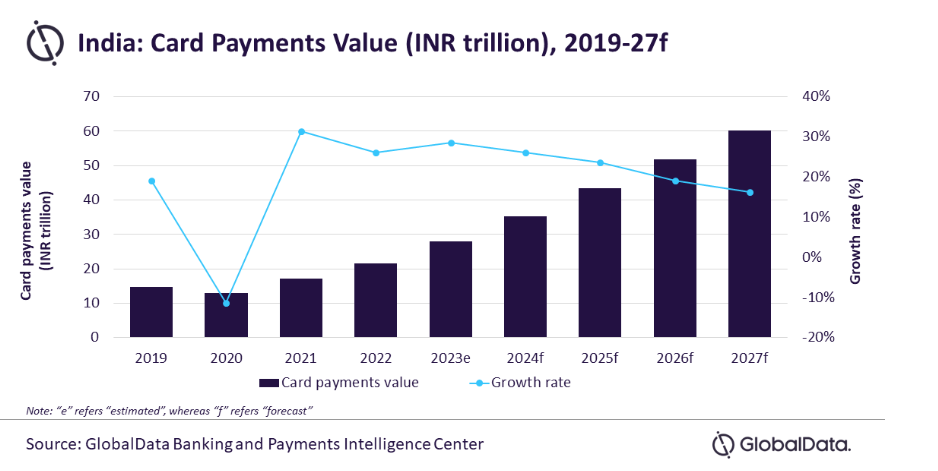 Ravi Sharma, Lead Banking and Payments Analyst at GlobalData, said: "India, which is primarily a cash-driven economy, made robust progress in the adoption and usage of card payments supported by improvement in payment infrastructure, and constant efforts by financial authorities to increase financial inclusion and boost cashless payments."
Loyalty and reward programmes boost cash displacement
The post-Covid-19 pandemic recovery in card payments was mainly driven by credit and charge cards, with this card category growing by 53.0% in 2021 and 46.7% in 2022, as consumer spending increased on travel, accommodation, restaurants, and transportation. Loyalty programmes and reward benefits such as discounts, and instalment facilities are also aiding credit and charge card growth. This trend is expected to continue in 2023, as credit and charge card payments are expected to grow by 38.1%.
Debit card payments, on the other hand, are expected to grow at a slower pace of 9.5% during the same period.
The growth in the card payments is also driven by the government push to improve electronic payment infrastructure. In January 2021, the Reserve Bank of India (RBI) set up Payments Infrastructure Development Fund (PIDF) to expand payment infrastructure. Contribution to this fund is made by the RBI, card schemes and banks. The fund offers subsidy to merchants on installation of POS terminals and QR codes.
As part of the directive by the RBI in June 2022, merchants can avail 60-75% subsidy on the cost of POS terminal installation and 75-90% subsidy on QR code. By December 2022, over 480,000 POS terminals and 18.3 million QR code acceptance points were deployed across the country using funds from PIDF.
UPI – a potential game changer
The move by RBI in June 2022 to link credit cards with instant payment systems via UPI could be a game changer for credit card usage in the country.  UPI, which allows bank-to-bank transfers, added payment with RuPay credit cards feature. This allows cardholders to make payments to merchants with their saved RuPay credit cards. As of August 2023, Punjab National Bank, Union Bank of India, Indian Bank, HDFC Bank, Axis Bank, Kotak Mahindra, and Bank of Baroda are offering this service.
This move will further drive credit card spending. Small merchants, who do not accept card payments are expected to do so once cards are integrated with UPI. As small merchants do not have to spend additional costs for installing POS terminals, they can start accepting card payments using existing QR code scanner.
Sharma added: "Card payments in India have been driven by a strong revival in the economy, post-pandemic growth in consumer spending and constant improvement in payment infrastructure. The recent move by RBI to allow credit card payments via UPI will further push to card payments in the country."