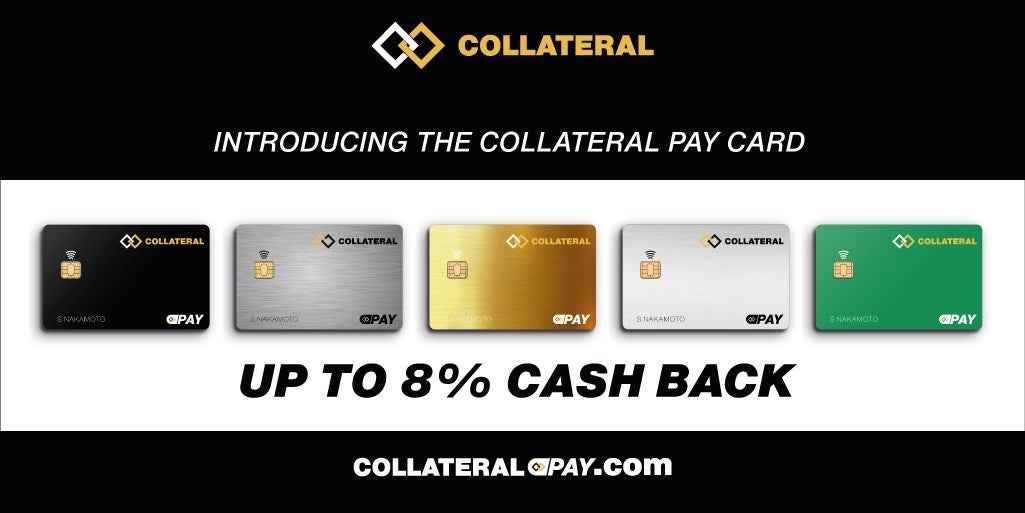 Financial technology firm Collateral has unveiled its new crypto payment solution dubbed as, Collateral Pay Debit Card.
Users can register for their new Collateral Pay Debit Card later this month, stated the company.
This debit card immediately collateralises cryptocurrency for a fiat currency loan.
It enables cardholders to transact at the point of sale across the world, without spending their crypto.
With Collateral Pay, users need not sell their crypto, and given that users are not selling it, they will not lose any gains they might make on their cryptocurrency.
When a transaction is initiated, Collateral Pay Debit Card integrates with the Collateral Pay Wallet where the cryptocurrency is held.
The crypto is collateralized against a fiat payment made to the retailer.
The retailer gets paid in fiat currency and the cardholder can pay back the fiat debt as per their convenience because there are no time constraints, Collateral Pay noted.
To release the crypto collateral, which is secured in a fully-audited smart contract, payments can be made in cryptocurrency or a Stablecoin.
Meanwhile, Collateral has appointed Suresh Vaghjiani as an advisor. Besides technical and regulatory aspects, Suresh will also take a lead on finalising an agreement with Visa or Mastercard. The firm anticipates a decision on this matter soon.
Collateral CEO Chris Longden said: "We've discovered that our target audience doesn't always wish to spend their Cryptocurrency, as they either see it as a long-term investment or believe in its potential as the decentralised future of money.
"Customers would often prefer to hold onto their valuable digital assets and Collateral Pay allows them to do that, by offering an easy solution which instantly leverages Cryptocurrency against Fiat in order to make day-to-day purchases."