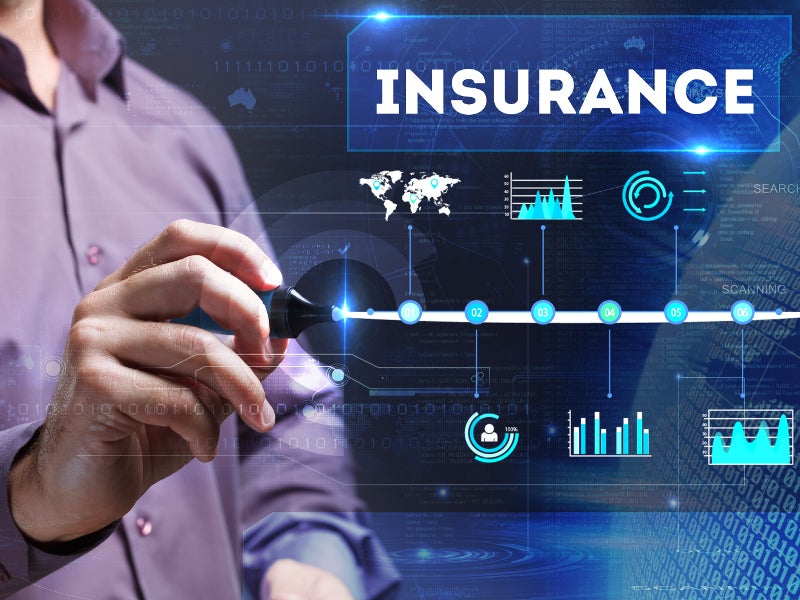 Life Insurance International lists the top five terms tweeted in insurtech in Q3 2019, based on data from GlobalData's Influencer Platform.
The top tweeted terms are the trending industry discussions happening on Twitter by key individuals (influencers) as tracked by the platform.
1. Artificial intelligence – 3,496 mentions
The applications of artificial intelligence (AI) in insurance and the risks associated with it were popularly discussed during the quarter. An infographic shared by Antonio Grasso, the founder and CEO of Digital Business Innovation, a consulting firm, depicts how AI can be applied in areas such as internet of things (IoT). Robotics, and natural language processing to add value to the insurance ecosystem and streamline operations.
The pros and cons of using AI in the insurance industry was another popular discussion. AI can be used to drive savings for insurers and benefit policyholders, according to an article shared by Andreas Staub, a top insurtech influencer. It can also be used to implement usage-based insurance through IoT sensors. This will allow users to pay lesser premiums for safer driving or leading healthier lifestyles. Further, chatbots can ensure greater personalisation, making online interfaces easier for customers to settle their claims, the article adds.
However, some of the risks associated with the use of AI in insurance include ambiguous results and discriminative profiling. For instance, being judged for low or high risk cover based on a particular region or demographic group. Other risks involved include genetic discrimination and lack of data privacy.
Very risky business:
The pros & cons of #insurance companies embracing #ArtificialIntelligence#insurtech #fintech #AI #IoT #BigData #smarthome #privacy @jblefevre60 @YuHelenYu @Julez_Norton @mvollmer1 @HaroldSinnott @pierrepinna @horstwilmes @natashakyphttps://t.co/aVfrJd96fS pic.twitter.com/yid5nPcLFa

— Andreas Staub (@andi_staub) September 19, 2019
2. Start-ups – 1,061 mentions
The new expansion and brand refresh plans of Alan, a digital health insurance start-up based in France, was trending. Alan announced a complete technology overhaul of its payments system, and expansion into new markets including the hospitality industry. The company also plans to target individuals including people with specific needs and the retired.
The plans of Instanda's, an insurance software provider, to open a managing general agent (MGA) start-up facility was also popular on start-ups. The platform will provide all the tools and services to commence underwriting. It will enable the distribution of products, submit and manage policies, as well as handle first notice of loss (FNOL) processing and renewals.
French startup Alan launches 4 new verticalshttps://t.co/CQ2jspmvuA#Insurtech #fintech @OdysseusVenture @SeedFounders @Insurtech_Cap @AliPaterson @Salisafa @GuyFraker @charliehalkett @SusanneChishti @denisegarth @sahoodk @stratorob @ArkangelScrap @DrFerdowsi pic.twitter.com/JykWvZ1amA

— Minh Q. Tran (@Minh_Q_Tran) September 2, 2019
3. IoT – 601 mentions
Connected devices and sensors offering new opportunities for insurers to revamp their products was widely discussed. Antonio Grasso shared an infographic in his tweet. It illustrates that connected devices can widen the scope of new insurance customers for commercial as well as health insurers. This enables better risk-based pricing, as well as providing opportunities to cross-sell and eliminate fraudulent claims.
Another infographic shared by Grasso details how telemetry can be used for automobile insurance, sensors, and drones for home insurance and IoT wearables for life and health. The infographic depicts how insurers can maximise their value propositions. This is through a connected home, connected health, connected city, connected car, connected government, and connected enterprise scenario.
Telemetry for automobile insurance, sensors and drones for home insurance and IoT wearables for life and health are poised for growth. Link > https://t.co/W5tlzS3WNU @globaliqx @Accenture via @antgrasso #IoT #IIoT #Insurtech #wearables #FinServ #innovation pic.twitter.com/YL6HXwFSeL

— Antonio Grasso (@antgrasso) July 14, 2019
4. Blockchain – 589 mentions
The use of technologies such as blockchain, data analytics, and robotics in helping the insurance ecosystem evolve was discussed on Twitter in Q3. Mike Quindazzi, managing director at consulting firm PwC, shared an infographic in his tweet. This depicted the significance of technologies for the insurance ecosystem. The infographic highlights blockchain's usefulness in claims management This is an area which insurers have begun to exploit to implement a transparent framework for transactions. This helps eliminate fraudulent claims processing.
Another trending discussion was MetLife's plans to invest approximately $2.7 trillion in the life insurance industry using the digital currency, Ethereum. It is expected to be the first pilot programme focused on life insurance. It will see people using a platform called 'Lifechain' for claims processing.
The partnership between Aon, Oxfam, and Etherisc, an insurtech start-up was trending. Their aim is to provide agriculture insurance to Sri Lankan farmers through a blockchain platform. Aon is a provider of health, risk, and retirement solutions, while Oxfam is a non-profit organisation focused on alleviating poverty. The blockchain platform provides micro-insurance to the farmers in the event of crop failures.
Interesting use case of the #blockchain technology in Life Insurance. #InsurTech #FinTech https://t.co/FBbTrU6eGq

— Florian Graillot (@FGraillot) July 8, 2019
5. Digital transformation – 551 mentions
The key areas that insurers need to focus on to transform their business in the digital age was a popular topic. Antonio Grasso, a B2B tech influencer, shared an article explaining a four-fold path or strategy to becoming more agile and innovative in a digitally disruptive world.
The article details how the insurance industry has been slow to adopt technology. Also how rotating the business model to face disruption can be a daunting task. Removing legacy systems, transforming the core business, focusing on digital initiatives, and identifying winning strategies were found to be crucial to adapt to the new business, according to the article.
Another trending discussion was on how the rise of new insurtech companies bringing about further digital transformation in insurance would make 2020 a crucial turning point for innovation, according to an article shared by Mike de Waal, a top insurtech influencer.
The turning point for the global insurance innovation ?https://t.co/1kqXB6D93Q#fintech #insurtech #DigitalTransformation @abockelm @jaypalter @nigelwalsh @Xbond49 @albertogaruccio @WFSULLIVAN3 @robgalb @insurtechforum @MikeQuindazzi @charliehalkett @insurtechtalk @psb_dc pic.twitter.com/By4DNQgQ5x

— Mike de Waal (@globaliqx) July 16, 2019