Vietnam is a cash-dominated society, with consumers preferring cash for day-to-day transactions due to factors such as a high unbanked population, limited financial awareness and inadequate payment infrastructure.
Financial inclusion remains a top priority, with the government and other bodies introducing initiatives to improve banking penetration in Vietnam. The government is aiming to bring 70% of the adult population into the formal banking system by 2020. Expansion of POS infrastructure, a reduction in cash usage, and payments of utility bills through electronic methods are other key government objectives.
To promote wider overall consumer uptake of non-cash payments, the central State Bank of Vietnam has granted licences to 27 non-bank companies to provide payment services in the country, most of which offer services through online and mobile channels.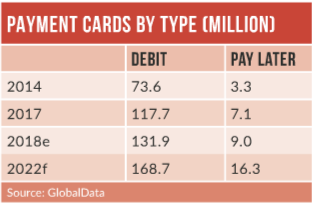 Banks are also expanding their services to both rural and urban locations in the form of new branches, mobile van banks, and digital self-service branches. Debit cards accounted for 94.6% of the total payment card transaction value in 2018. At present, most transactions are cash withdrawals, but as banks impose fees on ATM withdrawals, the number of card payments has registered robust rates of growth, both in terms of volume and value. With Vietnamese banks expanding their services to rural areas and introducing digital branches, the debit card market is anticipated to grow further.
Pay-later cards are not popular among Vietnamese consumers, accounting for only 5.4% of total payment card transaction value in 2018. This is mostly due to the high unbanked population and limited consumer awareness of the benefits of credit cards. Banks promote credit cards by offering discounts, cashback and installment payment facilities. For example, Sacombank offers interest-free instalment payments on selected credit cards.

E-commerce in Vietnam registered robust growth, rising from VND62.8trn ($2.8bn) in 2014 to $7.5bn in 2018. A large young population and growths in internet and smartphone penetration are the key drivers. The government launched Online Friday in 2014 to promote e-commerce; this annual event is held on the first Friday of December. In 2016, 3,000 companies participated and 370,000 promotional products and services were offered.
The prepaid card market registered robust growth in terms of both the number of cards in circulation and transaction value during 2014-2017. In addition to conventional prepaid cards, virtual prepaid cards are growing in demand, mainly due to a rise in the number of online shoppers. VietinBank offers the E-Fast On Visa prepaid card with a one-time issuance fee of $0.29 and a maximum load of $220.16. It can be used to make secure purchases on all websites that accept Visa