The Dutch payment card market is mature, with a high penetration rate of 1.9 cards per inhabitant.
Growth has been driven by debit cards, which accounted for 89.3% of the overall transaction value in 2018. Consumers see debit cards as secure, cost-effective and consumer-friendly, while pay-later card payments are less popular due to a cultural aversion to debt.
Growth in the payment card market is supported by well-developed infrastructure, with POS terminal per 34 individuals. Affordable and widely available financial products, the strong presence of digital-only banks, and consumer preference for electronic payments will aid the move towards an increasingly less cash-dependent society.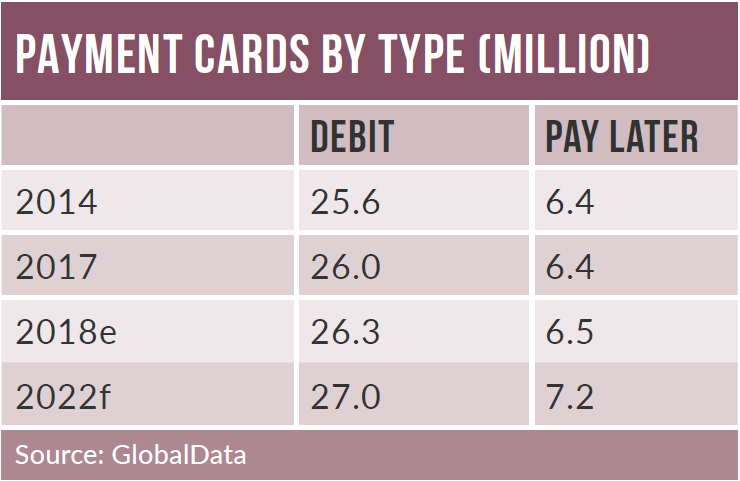 Despite the strength of electronic payments, the country's mobile proximity payments market is underdeveloped. However, recent developments in mobile proximity payments and contactless technology by ING, Rabobank and ABN Amro will see these options gain traction among Dutch consumers.
Debit cards accounted for 86.9% of the total card payment value in 2018, and registered robust growth in terms of payments volume at a CAGR of 9.3%. The migration of low-value cash transactions to debit cards was a key trend between 2014 and 2018.
According to the Dutch Payments Association, the number of debit card transactions valued at under €10 ($11.1) rose by over 12% in 2017, supported by a growing preference for contactless – in December 2017, almost half of all debit card payments were contactless.

Contactless cards were introduced in the Netherlands in 2014, since when the Dutch market has embraced the technology. According to the Dutch Payments Association, contactless payments replaced up to 7% of cash transactions in 2017.
Over 1.5 billion contactless payments were made in 2017, compared to 0.6 billion in 2016. Supermarkets accounted for 35% of contactless payments in 2017, followed by the catering and vending (17%) and hospitality industries (16%).
The Dutch e-commerce market grew strongly between 2014 and 2018, recording a CAGR of 16.6%. High internet and smartphone penetration combined with a preference for online shopping drove this growth. With the number of online shoppers rising, many retailers are launching online shops in the Netherlands.
Examples include German online furniture store Loberon, German fashion retailer About You, and UK-based electronics retailer AO. iDEAL remains the preferred tool for e-commerce payments, accounting for 41.3% of e-commerce transaction value in 2018. iDEAL can also be used on foreign websites, with one in every three iDEAL transaction made on foreign websites.