The Dutch payment cards market has a high penetration rate of 1.9 cards per inhabitant. Card use has benefited from modern infrastructure, and growth in the retail and e-commerce sectors.
The Dutch payment cards market is dominated by debit cards, as consumers see them as more secure, cost-effective and consumer-friendly. Pay later cards are less popular, with consumer aversion to debt a key factor.
The debit card penetration rate stood at 157.2 cards per 100 individuals in 2016, which is high compared to Luxembourg (125.4), Switzerland (122.4), Austria (114.6), Greece (110.1) and Ireland (104.7).

Debit cards remained the most widely used payment card, accounting for 90% of the total payment card transaction value in 2016. The migration of low-value cash transactions to debit cards was a key trend, and according to the Dutch Payments Association transactions under $11.2 (€10) accounted for 40% of the total debit card transaction volume in 2015.
Use of debit cards increased during 2012-2016, due to various initiatives by regulators. The nationwide campaign launched in 2013 – Debit card? Yes, please! – increased public awareness levels for low-value transactions.
The Dutch Payments Association also provides promotional material to consumers to encourage debit card payments. In 2014, the association allowed businesses to use a display board to inform customers that terminals can accept contactless payments. The campaign used both traditional and digital media to raise awareness. In addition, banks and retailers jointly launched the Pin & Win campaign, which rewarded consumers who used debit cards for in-store payments.
In September 2014 banks and other financial service institutions signed the Nadere Overeenkomst II agreement to reduce cash use by 2018, by converting cash transactions to debit transactions.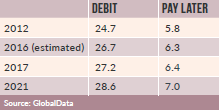 The Netherlands has recorded an uptake in contactless payment cards since the introduction of Nadere Overeenkomst II. The number of contactless cards rose from 8m in 2014 to 19.6m in 2016, and is forecast to reach 31.7m by 2021.
To profit from this, ABN Amro replaced all its payment cards with contactless functionality in December 2015. Similarly, ING Bank and Rabobank are replacing old cards with contactless-enabled versions.
With a growing consumer preference for contactless, retailers are installing associated POS terminals. According to the Dutch Payments Association, there were 123,000 contactless POS terminals in the country by December 2015, compared to 56,000 in December 2014.
iDEAL remains a market leader in Dutch third-party payments. It serves 10m customers through 100,000 merchants, and an average of 13m iDEAL payments are made per month. It accounts for 56% of online transactions. Users do not need to register if they bank online with ABN Amro, ASN Bank, bunq and others.