Although cash dominates the payments system in Thailand, the government has been partnering with local banking operators to bring more of the country's large unbanked population into the formal financial fold. A fast-growing e-commerce sector is also leading to growth in mobile and digital wallets, and carrier billing.
Cash remains the preferred consumer payment instrument in Thailand, accounting for 96.5% of the total payment transaction volume. This is due to a lack of adequate banking infra­structure, limited awareness of electronic payments, and low acceptance by retailers.
However, use of cash is anticipated to decline gradually over the forecast period (2017–2021), as the central bank looks to promote electronic payments in Thailand. The government has launched two devel­opment plans for growth: FSMP III and the Payment Systems Roadmap.
Inclusion programmes supported growth
The Thai government and commercial banks have taken initiatives to bring the wider pop­ulation into the formal banking system.
The Bank of Thailand introduced the Financial Consumer Protection Center on January 13, 2012, which both develops citi­zens' financial knowledge and understand­ing, and provides solutions for grievances and complaints about financial products and services. Adding to this, in 2014 the Citi Foundation and Kenan Institute Asia togeth­er introduced the Literacy Improvement for Better Finance in Thailand project.
According to the World Bank, Thailand has made substantial progress in terms of financial inclusion, with the percentage of the Thai population aged 15 or above with a bank account rising from 74.6% in 2012 to 81.9% in 2016. Rising bank penetration has led to a rise in demand for banking products such as current accounts and debit cards.

Stringent regulation to curb debt
Household debt remained high in Thailand during the review period (2012–2016), reaching its peak in 2013, with household debt equivalent to 82.3% of total GDP.
The central bank enforced stringent regu­lations on credit card issuance in 2013 to curb rising household debt. The regulations required all banks to cap interest rates at 20% per annum, and all cardholders to pay a minimum of 10% of the outstanding bal­ance each month. The move helped issuers to identify creditworthy customers, and reduce the number of defaulters.
The new regulations led to a slowdown in new credit card issuance in the country. Annual growth in credit card circulation fell from 10.5% in 2013 to 7.0% in 2016 – a trend that is expected to continue over the forecast period.
Credit card use, however, is expected to rise as a result of rising consumer household spending, the recovery of the automobile market, and enhanced consumer confidence.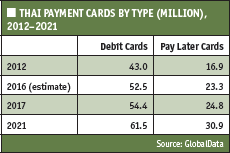 Alternatives and e-commerce gain ground
The e-commerce market in Thailand grew significantly from $8.3bn (THB259.4bn) in 2012 to $20.7bn in 2016, at a CAGR of 25.43%, due to rising mobile and online penetration, the growing presence of online retailers, and increased consumer confidence in online transactions. The market is forecast to reach $63.3bn in 2021.
Conventional instruments – including pay­ment cards and credit transfers – remain the preferred mode of payment for e-commerce, collectively accounting for 68.9% of the total e-commerce transaction value in 2016. However, emerging methods such as mobile wallets, digital wallets and carrier billing are gaining prominence, collectively accounting for 9.4% of the total e-commerce transaction value in 2016 – up from 4.5% in 2012.
A number of leading international pay­ment solutions, such as PayPal, Master­Pass and Fortumo, have entered the Thai e-commerce market. They are complement­ed by domestic solutions such as mPay, True Money and AirPay.