Canada's payment cards market is one of the most highly competitive and attractive in North America. Pay later and debit card penetration rates reached 1.9 and 0.7 respectively per inhabitant in 2016.
Canadian consumers had the second-highest frequency of payment cards in comparison to its peers in 2016, with 110.6 transactions per card – behind France with 147.5.
The average transaction value (ATV) on all payment cards decreased during the review period (2012–2016), from $72.1 (C$72.0) in 2012 to $52.2 in 2016, and is forecast to reach $50.5 by 2021. The decline is likely to be a reflection of the continuing migration of low-value cash payments to payment cards, alongside the increasing use of contactless cards.

Despite the growth of transaction volumes at POS, debit cards have struggled to gain traction in terms of value, primarily because credit cards dominate purchases of big-ticket items. The credit card ATV stood at $75 in 2016, whereas for debit cards the ATV was US$31.2.
With a reduction in interchange fees, merchant acceptance of credit cards also grew. In November 2014, Visa and Mastercard agreed to reduce interchange fees on credit card purchases, and limit the amount retailers are charged to process transactions at 1.5% of the transaction value. The new rate was applicable from April 30, 2015, and will remain unchanged for five years.
Canada is poised for progress on technological fronts such as alternative payments. Its approach has been to make mobile payments capability ubiquitous, recognizing that consumers will benefit. Already pressing ahead with the adoption of Europay, Mastercard and Visa (EMV), and with the growing presence of contactless platforms, key infrastructure is already in place.
Alternative payments will form a natural extension of the established infrastructure, offering speed, security and convenience to consumers.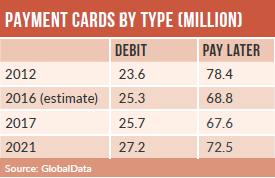 Apple Pay entered the Canadian market in November 2015. Initially, the service was only available to American Express cardholders but was expanded in partnership with financial institutions including ATB Financial, Bank of Montreal, Canadian Imperial Bank of Commerce, President's Choice, Desjardins, Royal Bank of Canada, Scotiabank, Tangerine and TD Canada Trust in May 2016.
Other launches include QuickPass in August 2016, Samsung Pay in partnership with CIBC in November 2016, and Amex Pay in December 2016. Such initiatives are set to increase competition in the market.
In terms of the number of cards in circulation, the prepaid cards market posted a review-period CAGR of 7.18%; it recorded a CAGR of 1.99% in terms of transaction value. The growth was supported by the emergence of new general-purpose reloadable prepaid cards with lower fees, which are becoming increasingly popular in Canada.