In 2015, banking licences were granted to Atom Bank and OakNorth with B, Starling and ClearBank following in 2016.
2017 witnessed the launches and granting of licences to Monzo, Tandem, Fidor, Civilised and Chetwood. As the first half of 2018 draws to a close, licences have been granted or are at the application stage for six more outfits.
Revolut has applied for a European banking licence and expects its application to be fully granted later in the year by the Central Bank of Lithuania; it will then passport elsewhere in Europe.
There is ample evidence that there is adequate finance available – indeed, it is growing – in the UK venture capital space, especially for digital banking and payments startups (see chart).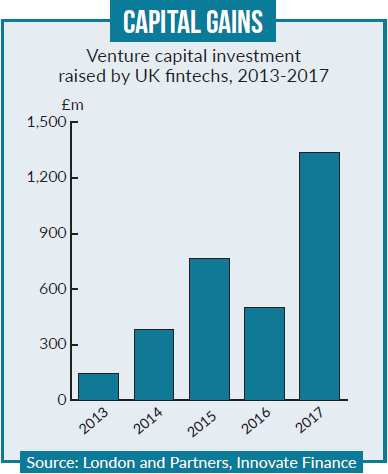 The attrition rate to date is slower than many – in particular, this writer – expected. The B sub-brand from Clydesdale will be shortlived. Launched in February 2016, B will be dropped with the Clydesdale and Yorkshire brands – which date back to 1838 and 1859 respectively – as a consequence of the CYBG/ Virgin deal and its Virgin single brand strategy.
Civilised Bank was awarded a banking licence in May 2017, but less than a year later handed back its licence temporarily to focus on IT development.
Tandem lost its licence in May 2017 following a loss of funding from troubled retailer House of Fraser, but its setback was brief Tandem's acquisition of Harrods Bank in early 2018 gave the former a banking licence, as well as a £375m ($470m) loan book and over £400m of deposits.
The main premise of the Open Banking initiative in the UK was that a concentrated banking sector meant a lack of competition. There has never been more competition and greater choice available to consumers, yet account switching rates remain at a dismal 2.5% per year. And despite the rapid growth of digital banking, Verdict's research shows that branch proximity is still a key consideration for most consumers, with 58% of those who opened a bank account in 2014-2017 citing branch location as playing a part in their choice of provider.
The early hits include Nick Ogden's ClearBank, and given his track record – Cashflows and Worldpay – that is no great surprise. Atom has raised more than £400m from investors, and with BBVA as its largest shareholder, is well placed to accelerate growth. It has grown its deposits to more than £1.6bn, and has a loan book of more than £1.2bn – despite its limited product range and a less-than-compelling mobile app.
Redwood also deserves a positive mention, having raised another £10m from its backers. It is finding a niche targeting the SME market with products including mortgages for business owners and professional landlords, as well as a range of savings accounts.
And there are Revolut and Monzo – off the scale compared to rival challengers in terms of customer acquisition. Monzo is up to 750,000 customers and is now teaming up with Transferwise to boost its international payments capability. Transferwise already powers international money transfers for Germany's N26 and Estonia's LHV. Revolut is up to 2.25 million customers, with no signs of its rapid growth slowing down.
A word also for Monese and its 400,000-plus customers, proving that a full banking licence is not essential. It has also achieved its initial success with investor backing of less than $20m, compared to the sums raised by Monzo and Revolut.
Despite positive PR from a number of new challengers, there surely has to be a limit – fast approaching – of just how many more licences the PRA can wisely issue.
Other markets offer greater growth opportunities than the crowded UK, and it will be fascinating to see how Revolut's plans to target the US, Canada, Singapore, Hong Kong, Australia and New Zealand take off.
Anthony Thomson, ex-Metro Bank and Atom Bank, is also looking down under for his next venture. Many international raiders have tried, and failed, to take on Australia's Big Four established banks, and his latest project – dubbed 86 400, after the number of seconds in a day – will go head to head with Volt and Xinja, as well as the incumbents. On past form, I would not be rushing to the front of the queue to bet against him.