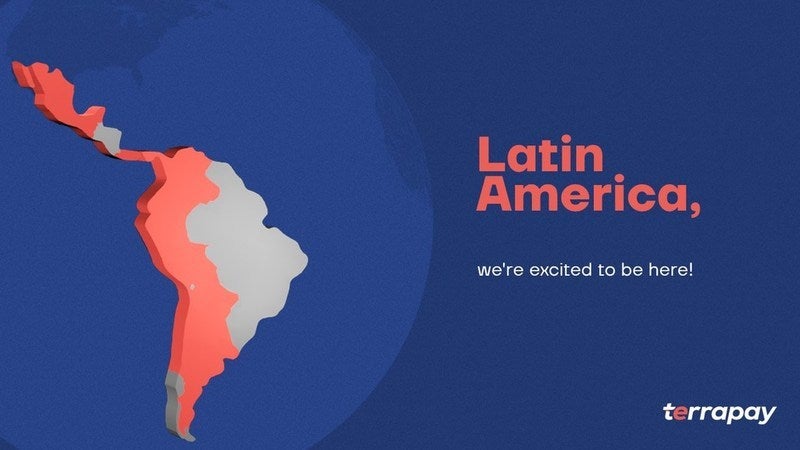 The Netherlands-based payments infrastructure firm TerraPay is strengthening its Americas footprint with the launch of its service in Mexico as well as 15 other markets in Latin America (LATAM).
Argentina, Brazil, Bolivia, Chile, Colombia, Costa Rica, Ecuador, El Salvador, Guatemala, Honduras, Nicaragua, Panama, Paraguay, Peru, and Uruguay are the markets the firm is foraying into.
As part of its Colombia entry, TerraPay recently partnered with mobile wallet service MOVii to enhance cross-border payments in the country.
The firm entered into the US and Canada earlier this year.
TerraPay facilitates international digital transactions by partnering with banks, mobile wallet operators, money transfer operators and financial institutions.
The firm also provides a technology platform to help businesses improve their customer proposition for remittances, payments, and cross-border spends.
TerraPay's LATAM expansion comes amid increasing inflows to countries such as Dominican Republic, Mexico, Guatemala, El Salvador, Colombia, Jamaica and Honduras.
Most of the remittances to these countries are said to have come from migrants working in the US.
The region is said to have witnessed "positive growth" in remittances during last year despite the pandemic.
Additionally, LATAM is one of the fastest growing mobile markets globally with mobile penetration steadily rising across the region.
Commenting on the development, TerraPay regional director Philip Daniel said: "At TerraPay, we believe that the smallest payment deserves a borderless journey as safe as the largest. We are currently registered and regulated across 15 global markets and has a strong network of partners at the 'send' regions; the existing network will further benefit our future partners and associates in 16 LATAM markets."
TerraPay plans to further expand into other markets in LATAM, including the Dominican Republic.
Last week, TerraPay teamed up with telecom operator MTN Mobile Money Uganda to drive international money transfers across major international corridors.