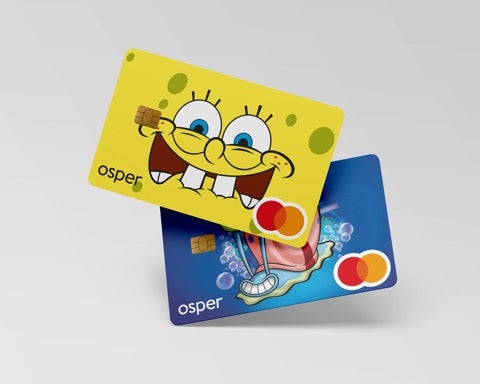 Osper, the UK-based youth fintech, agrees a debit card licensing deal with ViacomCBS. It enables Osper to roll out a range of contactless debit cards for customers aged under 18. Nickelodeon brands featured include SpongeBob SquarePants, Nickelodeon Slime, Teenage Mutant Ninja Turtles and JoJo Siwa.
In addition, Osper and ViacomCBS will work together on a range of co-branded financial education assets for UK children. Moreover, the companies will undertake promotion of both services across Nickelodeon TV and digital platforms.
With cash usage in decline, Osper says young people risk being financially excluded if they are limited to using cash. Osper works by allowing young people to have their own contactless prepaid debit card.
This can be instantly topped-up, monitored and managed by parents via a user-friendly app. Osper also automatically blocks payments for age restricted services. Moreover, it gives the option to turn off online spending, giving parents full control of their children's spending.
Osper and ViacomCBS: supporting today's children
"While young people are at the forefront of many of the world's positive changes, they too face real challenges from the fast pace of change around them," says Venetia Davie, Vice President, ViacomCBS Consumer Products UK & Ireland.
"We believe passionately in supporting today's children. This partnership is part of that commitment and we're delighted to be working with Osper. The reach and engagement of globally recognised properties such as Spongebob Squarepants and Teenage Mutant Ninja Turtles helps give young people the education and tools necessary to deal with money in an increasingly contactless and digital world."
Giovanni Santini, CEO, Osper adds: "By the age of 8, two things are happening. Children are already learning lifelong financial behaviours, and they're enthused, informed and entertained by world class content from Nickelodeon. At Osper we have always been focused on giving young people access to payments that are secure and safe. This partnership will be transformative in increasing the accessibility of young people to develop positive financial habits. It will shape their view of money for the rest of their lives.