Cash dominates the payments landscape in India, accounting for 59.3% of overall payment transaction volume in 2021 However, as a result of government initiatives, bank efforts, and growing consumer confidence in digital payments, Indians are shifting towards electronic payments and at some pace.
In 2017, cash accounted for 90.9% of overall payment transaction volume.
The government has taken a number of steps to bring more of the population under the purview of the banking system, as well as to promote electronic payments These include the introduction of the Pradhan Mantri Jan Dhan Yojana (programme to offer low cost banking services), the appointment of banking correspondents, the launch of payments banks, and the reduction of merchant fees on card based payments.
The introduction of the real-time Unified Payments Interface (UPI) platform, improving payments infrastructure, growing ecommerce, and the proliferation of mobile wallets will all support the growth of electronic payments over in the next few years.
The outbreak of Covid-19 has significantly impacted the country's economy and resulted in a decline in consumer spending, which in turn has had an adverse impact on all sectors, including payments However, the pandemic highlighted the importance of digital payments, further accelerating the shift from cash to electronic payment methods.
RuPay is competing with international schemes
Domestic card payment scheme RuPay has successfully disrupted the debit card space. Its debit cards account for 28.2% of total debit card transaction value in 2021 up from 12.9% in 2017 placing it second behind only Visa. It now leads the market in terms of number of cards in circulation Growth has been supported by the introduction of the PMJDY program, under which RuPay cards are bundled with Jan Dhan accounts. The Indian government's move to abolish merchant service fees on RuPay cards effective from January 1, 2020, has further encouraged the acceptance of RuPay cards among merchants, thereby strengthening its market position.
Mobile wallets are emerging as a mainstream payment method
India is home to one of the most developed mobile wallet markets in the world. The market recorded a compound annual growth rate (CAGR) of 155.6% over the period 2017–21). Growth has been driven by the launch of UPI, which enabled users to make instant QR code payments using mobile phones. The Reserve Bank of India (made mobile wallet interoperability mandatory effective from April 1, 2022, which enables users to make QR code-based payments at any merchant irrespective of the QR code solution used by the merchant. Mobile wallets are now widely used for day-to-day transactions at supermarkets, grocery stores, and street vendors, as well as online.
Covid-19 has boosted ecommerce growth
India's ecommerce market rose from INR2.2tn ($30.1bn) in 2017 to $61.5bn in 2021 at a CAGR of 19.6%. Growth has been supported by rising internet and smartphone penetration, discounts, government initiatives, faster delivery options offered by e-retailers, and the growing consumer preference for online shopping. The pandemic has accelerated the shift to online shopping as wary consumers are staying home to avoid potential disease vectors. This trend has persisted even with physical stores reopening. Online payment tools such as Google Pay, PhonePe, Paytm, and Amazon Pay are benefitting from this trend.
Issuers offer prepaid cards targeted at different consumer segments
Prepaid card transaction value rose from $4.3bnin 2017 to $9.8bn in 2021 at a CAGR of 23.2%. Growth has been supported by RBI measures to reduce cash payments and allow financial institutions and non-banking financial companies to issue prepaid cards. Issuers are offering prepaid cards targeted at different consumer segments. Targeting frequent travelers, Axis Bank collaborated with airline Vistara to launch the Axis Bank Club Vistara Forex Card in October 2020. This Visa-branded prepaid card can be loaded with up to 16 currencies and includes benefits such as reward programme, an emergency cash service, and passport assistance.
India's card acceptance network is highly developed
The number of POS terminals recorded a CAGR of 13.6% for the period 2017-2021 rising from 3.1 million in 2017 to 5.1 million in 2021. In January 2021, the RBI set up PIDF to deploy 1 million POS devices and increase the number of merchants accepting QR code payments by 2 million. As part of this initiative, merchants in tier 3–6 towns receive a 30–50% subsidy on the cost of POS terminals and a 50–75% subsidy on the cost of QR code acceptance. By November 2021, 250,000 POS terminals and 5.5 million QR code acceptance points had been deployed using PIDF funds.
India: debit card market shares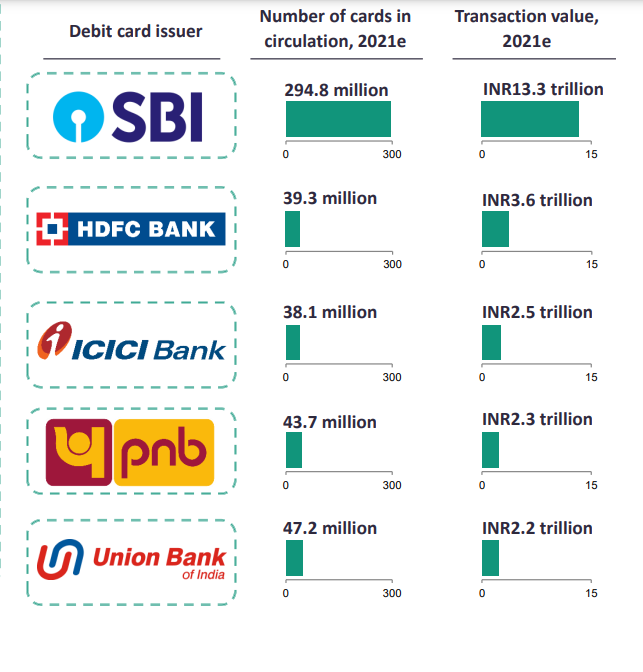 Debit cards account for 93.2% of cards in circulation while credit cards account for 6.8% of cards in circulation. Despite lower penetration, consumers are increasingly using credit cards for payments. Credit cards accounted for over 50% of card payments by value in 2021. This is primarily due to benefits such as reward points, discounts, installment payment facilities, and loans. The market recorded a 13.7% decline in 2020 in terms of payment value due to reduced consumer spending amid the Covid-19 pandemic.
India: credit card market shares