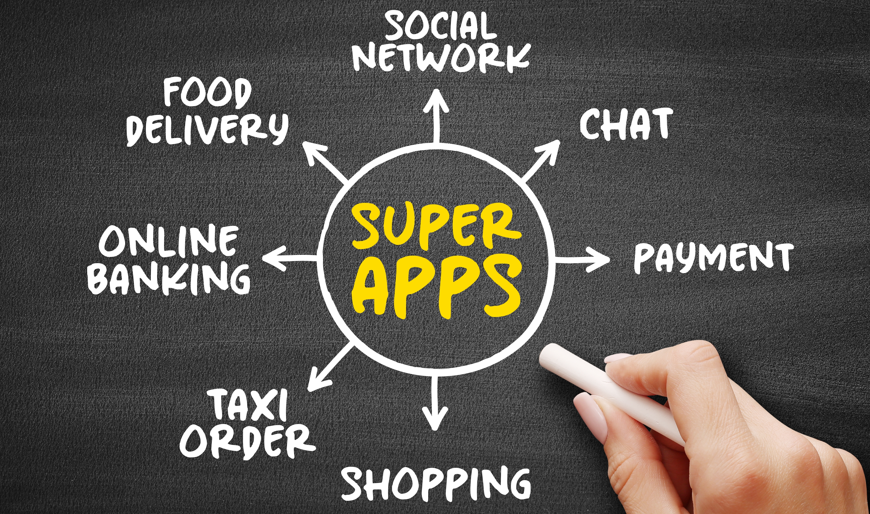 In recent years there has been a surge in the development of mobile applications, known as super-apps. These offer payment and financial transaction processing for personal and commercial life. Lanistar notes that advanced apps such as WeChat, Gojek and Grab have led the charge in providing a platform for everything from messaging and social networking to transportation and food delivery on a single platform.
Lanistar references research from Gartner, forecasting that 50% of the population will be using more than one super-app. This signals a significant shift in the mobile app industry.
Super-apps: born in Asia as messaging apps
Originating in Asia, super-apps began as messaging apps. They then expanded their services to include other features such as mobile payments, e-commerce, ride-hailing, food delivery, and social networking. Such apps have surged in popularity in Asia due to their simplicity, flexibility and ability to reduce clutter on mobile devices, improving financial organisation.
Jeremy Baber, CEO of Lanistar, said: "The concept of super-apps stems from a growing demand for convenience and seamless user experiences. They offer multiple services in one place to provide a more integrated experience for people. This is particularly useful in a world where there are so many commercial apps and offerings from multiple businesses.
Europe is playing super-app catch-up
"Despite the popularity of super-apps in other markets, Europe is behind in the super-app race. We have seen some household names begin to explore the possibility of diversifying their apps, such as Uber, Klarna and Lydia. But they have much further to go to reach super-app status."
The ongoing shifts in app development have led companies to change their market approach. It is anticipated that super-apps will provide a new channel for customer acquisition and engagement. This leads businesses to reach a broader audience and offering a more seamless experience. Despite the potential benefits for businesses and end users, there is hesitancy.
Regulatory concern
Regulators in the US and Europe have become increasingly critical of companies developing super-apps. They argue that they heighten the risk of data breaches and store more personal data to facilitate the delivery of their services. Super-apps must also be well-guarded to prevent cyber security breaches. Furthermore, users will lose access to multiple real-life services and digital applications if their accounts are lost.
"As well as navigating potential regulation and security challenges, app creators must also be mindful of their core service. And whether becoming a super-app will overshadow their existing purpose."
Baber concluded: "Like any emerging technology, product or app, risks often come into play. Super-apps must be built with security in mind. Given their vast reach across industries underpinned by financial transactions, regulation is already at the top of the agenda.
"Despite this, the popularity of super-apps will likely continue to rise. So, UK and European businesses need to hop on the train. They need to either develop their own or partner with existing providers to offer their services to avoid being left behind in a rapidly evolving market. The UK may be behind in the super-app race compared to Asian competitors. But we should expect to see the emergence of this new fintech application in coming years."