Cash remains king in Spanish payments, accounting for 57.3% of total payment transaction volume in 2021. However, the use of payment cards is rising sharply. Specifically, overall payment card transaction volume and value increased significantly in the four year period to end 2021, recording compound annual growth rates (CAGRs) of 10.0% and 3.1% respectively. The frequency of card use also rose from 62.2 times per card per year as of 2017 to 82.5 in 2021; this figure is set to climb to 109.4 by 2025 according to GlobalData research. The growing acceptance of payment cards by retailers and the advent of contactless technology are anticipated to reduce the share of cash within the economy over the next few years.
Strong growth was also seen in instant payments, as both consumers and businesses increasingly used online and mobile banking to make payments and transfer funds. The Covid-19 outbreak has also further propelled the adoption and usage of cashless payment methods in the country. Although the pandemic has impacted consumer spending, payment card transactions have grown at the expense of cash.
Sistemapay rules Spain's payment card market
Sistema de Tarjetas y Medios de Pagos (Sistemapay, also known as STMP) is the domestic card scheme. It has a monopoly across debit, credit, and charge cards. Sistemapay was formed in February 2018 through the merger of Spain's three domestic schemes: ServiRed, Sistema 4B, and EURO 6000. The new entity was created with approval from the National Commission on Markets and Competition. Post-merger, all local cards are issued by Sistemapay. To enable international usage, nearly all cards are co-badged with international schemes such as Visa and Mastercard.
The rise of contactless
Contactless technology is gaining prominence in Spain, with banks such as CaixaBank, Santander, and BBVA offering contactless cards. According to Banco de España (the country's central bank) nearly 83% of in-store card and mobile payments were contactless in 2020, compared to 78% in 2019. In response to COVID-19, from March 20, 2020, Spanish banks increased the contactless payment limit from €20 ($24.46) to $61.14. This provided a further boost to contactless payment transaction volume in the country.
Covid-19 slowed down ecommerce growth
Ecommerce in Spain rose from $38.3bn in 2017 to $61.6bn in 2019. But the Covid-19 outbreak slowed down growth in 2020, with ecommerce transaction value rising by just 1.3%. With the economy recovering and consumer spending increasing, the market is expected to improve from 2021 onwards and is set to reach $106.5bn in 2025 at a 2021-2025 CAGR of 12.5%. Online shopping events such as Black Friday and Cyber Monday have helped boost ecommerce growth. Payment solutions such as PayPal, Bizum, and Apple Pay are benefitting from growth in this space.
Spain's card acceptance network is highly developed
The number of POS terminals in Spain recorded a 2017-2021 CAGR of 5.4%, rising from 1.8 million in 2017 to 2.2 million in 2021. The number of card payments registered strong growth, rising from 4.0 billion in 2017 to 6.7 billion in 2021 at a CAGR of 13.6%. This further highlights the growing preference among Spanish consumers towards electronic methods of payment. In August 2021, payment service provider Correos and Mastercard together launched the pilot for a solution that converts any smartphone into a POS terminal, enabling users to accept payments via contactless cards, smartphones, and smartwatches.
The credit and charge card market is fragmented, with the top five banks accounting for 61.7% of total credit and charge card transaction value in 2021.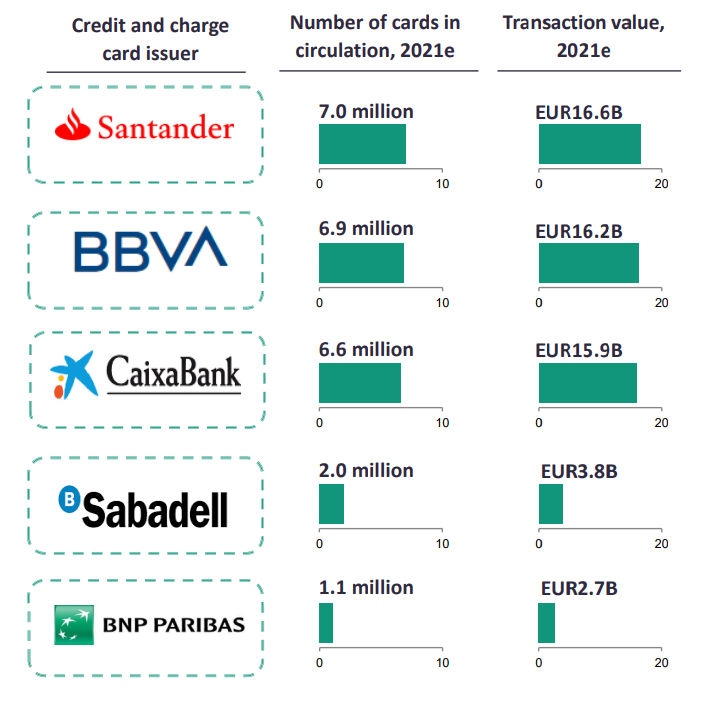 Meantime, the Spanish debit card market is highly concentrated. The top five banks accounted for 97.8% of total debit card transaction value in 2021 with CaixaBank the leading debit card issuer.