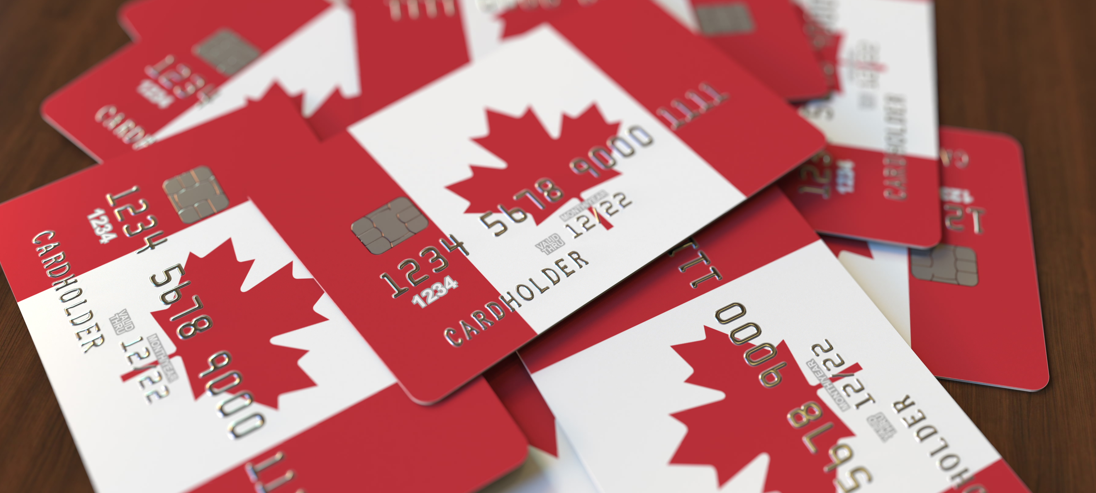 The payment card market in Canada is mature, with each individual holding nearly three cards in 2021. Canadian consumers are avid users of card payments, which accounted for 65.8% of total payment transaction volume in 2021.This has been driven by strong awareness of electronic payments and a consistently developing payment acceptance infrastructure. Card payment frequency increased over 2017–21, rising from 102.5 times per card per year in 2017 to 112.5 in 2021. This figure is set to reach 127.0 by 2025.
Aside from cards, the growing preference for contactless card payments and instant payments; the rising ecommerce market; payment innovations such as cashier-less stores and payment accessories; and alternative payment methods such as PayPal, Google Pay, and Apple Pay have boosted the preference for cashless payment methods. Additionally, the Covid-19 pandemic has propelled the shift in preference towards cashless payment methods, even though it has also had an adverse impact on the level of consumer spending (and thus the payments industry).
Interac dominates the debit card market
Interac operates the national debit card scheme and has a monopoly over the Canadian debit card market. Visa and Mastercard are co-badged with Interac cards, allowing holders to pay via Interac at the point of sale (POS) and Visa or Mastercard for online and in-app payments. Interac debit cards have a wide acceptance network. To expand acceptance, Interac partners with Walmart Canada to enable the acceptance of its debit card payment methods for both in-store and online transactions at Walmart. Interac also allows its card holders (as well as mobile wallets that support Interac Debit) to make transport payments.
Credit and charge cards are the preferred method of payment
Credit and charge card penetration in Canada stood at 205.7 cards per 100 individuals in 2022, compared to its peers the US (252), the UK (88.2), Spain (84.8), Sweden (70.2), Germany (47.1), Italy (46.2), and France (43.3).
Credit and charge card payment frequency in Canada stood at 97.1 transactions per card in 2022, in comparison to France (134.9), Sweden (81.1), the UK (70.1), Spain (66.7), the US (66.2), Italy (56), and Germany (46.7).
In 2022e, credit and charge card payment turnover in Canada was $7,132, in comparison to France ($7,246), the US ($6,389), the UK ($3,993), Sweden ($3,928), Italy ($3,609), Germany ($3,088), and Spain ($2,805).
Canadians use credit cards due to benefits such as reward points, discounts, and cashback. Covid-19 saw credit and charge card payment volume, value, and frequency of use decline in 2020 as spending in several sectors plummeted–particularly travel and accommodation. But thanks to the gradual economic recovery, in 2021 the credit and charge card market recorded growth of 6.9%, 6.3%, and 4.4% respectively in terms of card payment volume, value, and frequency of use. However, going forward the credit and charge card market is likely to be affected by competition from buy now pay later (BNPL) providers.
Canada credit cards: Mastercard v Visa v American Express
Visa 42.7 million cards
Mastercard 34.7 million cards
American Express 2.7 million cards
Visa offers a range of credit cards in partnership with all major banks in Canada. These include Classic, Gold, Platinum, Infinite, and Infinite Privilege variants, as well as Business and Infinite Business credit cards. Mastercard offers Standard, World, and World Elite credit card variants. Mastercard partners with over 15 financial institutions to issue credit cards, including Bank of Montreal, Capital One, CIBC, Desjardins, MBNA, RBC, and Scotiabank. To increase uptake, Mastercard offers the Priceless programme to card holders, which includes discounts and rewards at partner merchant across the shopping, dining, and travel categories. American Express targets both retail and corporate customers. Targeting retail customers, it offers cashback credit cards, co-branded credit cards, and credit cards with no annual fees. The company also runs the Membership Rewards programme, allowing its credit card holders to earn reward points that can be redeemed at partner merchants.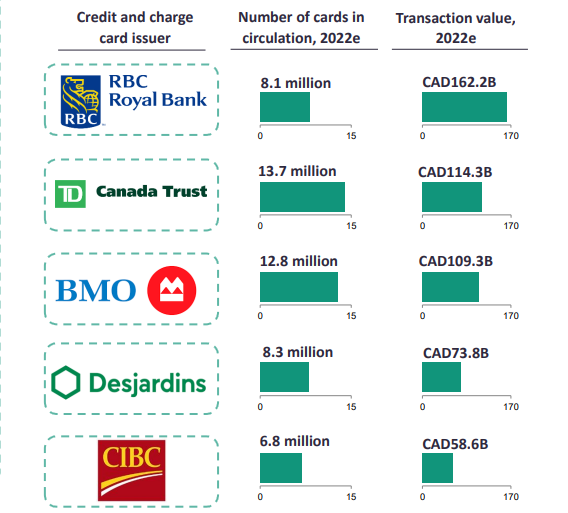 Ecommerce continues to grow at a healthy pace
The ecommerce market rose from C$61.6bn ($48.6bn) in 2017 to $83.9bn in 2021 at a CAGR of 14.6%. Growth can be attributed to strong internet penetration and the growing preference for online shopping among consumers. Consumers are increasingly spending online thanks to ecommerce shopping events such as Black Friday and Cyber Monday. Online payment tools such as PayPal, Apple Pay, and Interac Online will benefit from this trend. To drive growth, ecommerce company Shopify partnered with the government to introduce Go Digital Canada. This initiative offers resources and tech support to SMEs to help them launch online stores.
The prepaid card market is set to witness strong growth
In Canada's prepaid card market, transaction value and the number of prepaid cards registered CAGRs of 4.3% and 10.0% over 2017–21. This trend is set to continue over the forecast period. A wide range of prepaid cards are available, including payroll cards, corporate disbursement and incentive cards, government disbursement cards, gift cards, and travel cards. Non-traditional players also offer prepaid cards. Canada Post offers prepaid cards in two variants: the Cash Passport Prepaid Mastercard and the Canada Post Prepaid Reloadable Visa card, which are intended for travel and day-to-day use respectively.
Payment acceptance infrastructure is increasing rapidly
The number of POS terminals in Canada rose from 1.4 million in 2017 to 1.8 million in 2021 at a CAGR of 6.0%. The number of card payments grew from 10.9 billion in 2017 to 12.4 billion in 2021 at a CAGR of 3.3%. This highlights the growing preference for electronic methods of payment among Canadian consumers. To boost the acceptance of card payments among merchants, in September 2020, Canadian card processing company Moneris launched the Moneris Go POS terminal. The terminal allows merchants to accept payments via contactless cards as well as mobile wallets (including Google Pay and Apple Pay).