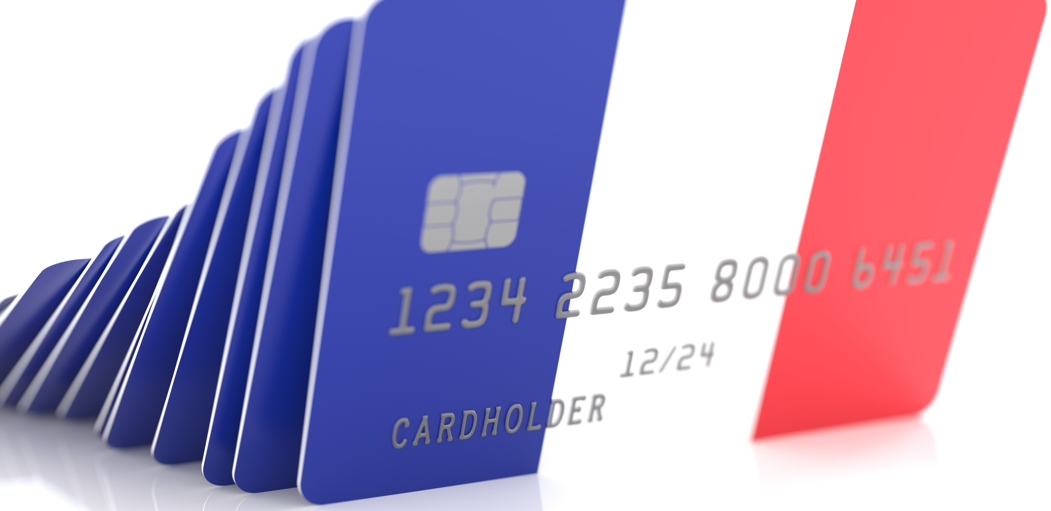 The French cards and payments industry is well developed. Payment card usage frequency in the country stood at 199.2 transactions per card per year in 2022 – the highest compared to other developed payment markets such as Canada, the US, Spain, and Italy.
At the core of the payments market is consumers' embrace of debit cards and Cartes Bancaires (CB), which has been the main driver behind the growth in all non-cash payments. With the combined efforts of the French government and banks to increase banking penetration, improve payment card acceptance infrastructure, and cap cash transactions, the volume and value of card payments increased at respective compound annual growth rates (CAGRs) of 7.5% and 6.2% over 2018–22, surpassing cash payments.
A notable feature of the French payment card market is the availability of multi-functional cards; the most popular combination is debit and charge card facilities via a single payment card. Additionally, rising adoption of contactless cards, the proliferation of digital-only banks, the emergence of alternative payment solutions, and growth in the ecommerce space indicate the French payment market will grow further. Customers are increasingly embracing the likes of PayPal, Google Pay, Apple Pay, Lydia, Paylib, and Lyf as well as other innovative payment solutions such as cashier-less stores and biometric payment cards. The French economy rebounded from the initial impact of Covid but is expected to slow down again in 2023 amid rising inflation and ongoing geopolitical uncertainty.
CB dominates the French debit card market
The French payment card market is dominated by CB, a national interbank network. CB cards are co-badged with international card schemes; domestic transactions are processed via CB, while international transactions are carried out via international networks. CB's wide acceptance network has helped ensure its dominance. To enhance the security of online transactions, in July 2019, CB introduced FAST'R by CB – an online payment security service compliant with the international 3D-Secure EMV standard. To provide enhanced convenience, CB enables its card holders to store their cards and make payments via mobile payment solutions such as Apple Pay.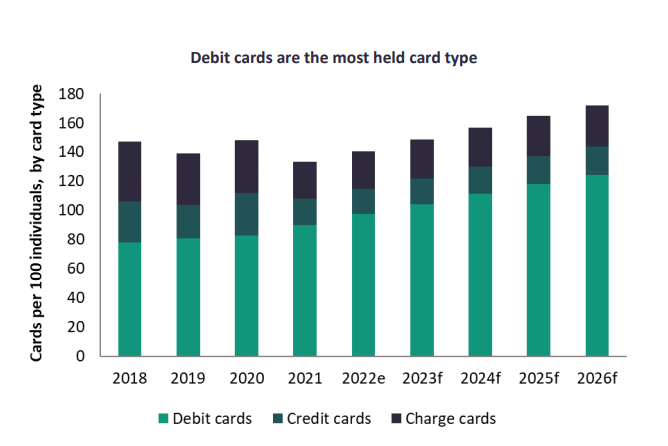 France: credit and charge cards sector
Credit cards account for 12.4% of cards in circulation. To spur the usage of credit cards in the country, banks offer value-added services such as reward points, discounts at partner retailers, instalment payment facilities, and other benefits associated with these cards. The market registered a decline both in terms of card payment volume and value, with respective CAGRs of -11.5% and -15.9% over 2018–22.
Charge cards account for 18.2% of cards in circulation. French consumers prefer the use of charge cards over credit cards in order to benefit from interest-free periods without falling into long-term debt. The number of charge cards in circulation is expected to record a CAGR of 2.5% over 2022–26.
Credit and charge card penetration in France stood at 43.1 cards per 100 individuals in 2022, compared to its peers the US (235.0), Canada (205.7), the UK (88.2), Spain (84.8), Sweden (70.2), Germany (47.1), and Italy (46.2).
Credit and charge card usage increased over 2018–22, reaching 135.2 times per card in 2022.
The credit and charge card market is highly concentrated, with the top five banks accounting for 90.3% of total credit and charge card transaction value in 2022.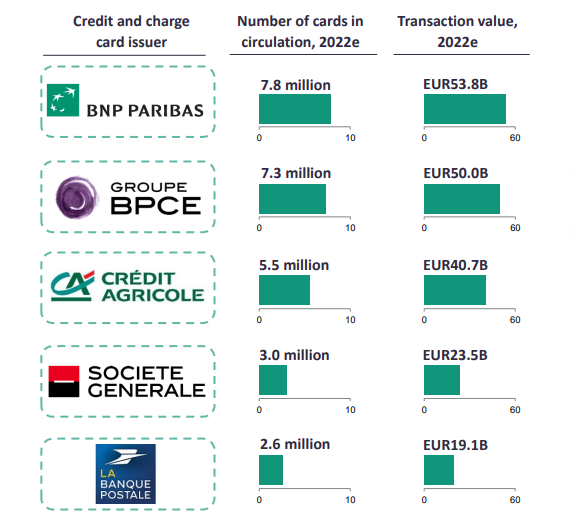 Contactless payments are gaining ground
Awareness and usage of contactless payment cards are high in France, with the number of contactless payment cards rising from 58.0 million in 2018 to 86.1 million in 2022 at a CAGR of 10.4%. The increasing number of contactless cards and the growing number of retailers accepting contactless payments will further boost the number of contactless payment cards in circulation, which is set to reach 112.7 million by 2026. The rise in the contactless payment limit to €50 ($56.88) and the introduction of contactless acceptance for transport payments will further drive contactless payments in the country.
e-commerce growth
Ecommerce in France rose from $105.3bn in 2018 to $162.7bn in 2022 at a CAGR of 11.5%. This growth can be attributed to high internet penetration, which complements the increased preference among consumers for shopping online. With the economy recovering and consumer spending increasing, the market is expected to rise further to reach $222.7bn in 2026. Online shopping events such as Black Friday and Cyber Monday have helped boost ecommerce growth, while payment solutions such as PayPal, Amazon Pay, and Google Pay are benefitting from this trend.
Prepaid cards: double-digit growth
France's prepaid card market recorded robust growth during the review period in terms of number of cards in circulation, rising from 2.8 million in 2018 to 4.5 million in 2022 at a CAGR of 12.6%. This trend is set to continue over 2022–26. However, in terms of prepaid card transaction value, the market recorded slow growth over 2018–22 amid government regulations. Effective from January 2018, the maximum limit on prepaid cards was set at $11,376. Reloading prepaid cards via cash or e-money methods and cash withdrawals via prepaid cards were limited to $1,137 per month. In addition, strict Know Your Customer norms were introduced for prepaid card issuance.