Pakistan is a cash-dominated society. Use of cash for day-to-day transactions remains prevalent due to factors such as a high unbanked population, limited financial awareness, and an inadequate payment infrastructure.
Financial inclusion remains a top priority, with the government and other commercial banks introducing initiatives to improve banking penetration. The government launched the National Financial Inclusion Strategy in May 2015, aiming to bring 50% of the adult population into the formal banking system by 2020.
Adoption of basic accounts, increasing the number of branches, offering services via banking agents, expanding ATMs and POS terminals, and promoting financial awareness are the key objectives.
The rise of Islamic banking is also expected to support payment card market growth. Branchless banking is among the main drivers of financial inclusion in Pakistan, and the number of accounts opened via branchless banking channels rose from 37.3 million in 2017 to 47.2 million in 2018.
Debit cards accounted for 96.3% of total payment card transaction value in 2019, including ATM withdrawals. The introduction of low-cost Asaan accounts and an expanded agent banking network have driven debit card adoption. Banks are increasingly using banking agents to reach unbanked populations in rural areas.
There were 425,199 agents operating in Pakistan as of December 2018. United Bank Ltd (UBL) offers UBL Omni branchless banking services through its network of 42,000 agents – branded as Omni Dukan – located in 900 cities and towns in the country.
Credit cards are not popular among Pakistani consumers, accounting for only 3.7% of the total payment card transaction value in 2019. This is because banks typically follow stringent application procedures, and because Islam forbids the charging of interest.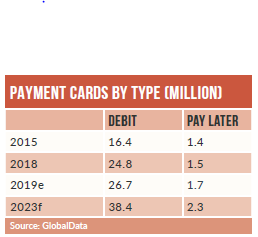 As the popularity of Islamic banking grows, many banks are offering Shariacompliant credit cards. Standard Chartered offers the Saadiq Visa credit card for a fixed monthly fee, with no interest charged on outstanding amounts. To encourage adoption, banks are also offering interest-free balance transfers and instalment facilities on credit card purchases.
E-commerce grew significantly in value from PKR6.3bn ($45.1m) in 2015 to $206.6m in 2019, at a CAGR of 46.3%. This growth was mainly supported by the expansion of internet access and rising smartphone penetration.
New e-commerce merchants and government initiatives have also supported growth. Online retailers conduct various shopping events to boost online sales, while the availability of alternative payment solutions such as Easypaisa, JazzCash, MCB Lite and FonePay also benefits the e-commerce space.