Kenya's mobile payment solutions continue to grow.
The payment card market is still developing, with card penetration of 30 cards per 100 individuals in 2017 and 16.0 transactions per card per year – lower than peers including South Africa, Morocco and Egypt.
The low uptake of payment cards is a result of society's dependence on cash and limited merchant acceptance. Overall, cash accounted for 88.4% of the total payment transaction volume in 2017.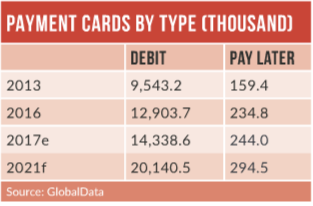 Advanced security features such as EMV are being adopted to encourage payment card use, and scheme providers have launched campaigns to raise consumer awareness of security issues and the benefits of EMV chip cards.
Visa ran a Security Week event in May 2015, and a chip and PIN campaign in September 2014 to promote the benefits of using cards for everyday transactions. Similarly, Mastercard partnered with card processor Paynet in July 2013 to launch the Great Migration to EMV Chip initiative.
The wide popularity and acceptance of mobile payment solutions such as M-Pesa and Pesapal has been a major obstacle for payment card growth, as these solutions offer convenience and cost-effectiveness. Unlike banks, mobile payment solution providers offer services to small merchants and charge lower processing fees, making them attractive to consumers.

Overall, the Kenyan payment card transaction value at the POS recorded a subdued CAGR of 0.6% during 2013-2017.
In 2016, to increase traceability of bank transactions and boost electronic payments, the government mandated that all Kenyan individuals must complete a form if they deposit or withdraw more than KES1.0m ($10,000) in cash from a bank account.
Card-based payments grew marginally between 2013 and 2017 due to the convenience and cost efficiency of mobile-based retail payment solutions. As of March 2017, M-Pesa had 27 million registered users in Kenya, with over 136,000 agents and over 260,000 active retail outlets.
Mobile solution providers typically charge low processing fees; for example, Safaricom charges merchants a 0.5% processing fee on its Lipa Na M-Pesa service – much cheaper than the average service charge for a bank card payment.
The government has taken several initiatives to bring Kenya's unbanked population into the formal banking system, which helps promote card use. One initiative is the adoption of an agency banking model to provide financial access to individuals in remote areas.
All of Kenya's major banks now offer agency banking services. According to the Central Bank of Kenya, as of 30 June 2017 a total of 60,102 banking agents from 18 commercial banks and five microfinance banks were operational in the country.
From June 2016 to June 2017, transactions undertaken by banking agents increased by 56.5% in value