As some parts of the world slowly emerge from the initial or only Covid-19 wave, we start to see some actual signs of what a post-pandemic economy would look like. The fact that e-commerce is booming is no secret, and we now have more data than just forecasts to highlight it.
According to a study made by Bank of America, the U.S. Department of Commerce, and ShawSpring Research, e-commerce spending as a percentage of US retail sales has grown as much in the eight weeks to April 2020 as it has in the preceding 10 years, reaching a whopping 27% penetration. With people still needing to buy products while stores are closed and social distancing is enforced, it became a perfect storm for online retailers.
However, the real impact for the industry isn't just the customers who will use e-commerce during the pandemic and go back to their normal outside shopping habits. The retention level for people already used to doing most of their shopping online will be the real growth engine for the industry.
The forecast for e-commerce growth made at GlobalData shows just this point: Covid-19 was an accelerator for phenomena that was already happening: E-commerce was steadily becoming a bigger industry while people were slowly getting more comfortable with buying their products online. However, with this being the only way to shop for a while, forecasts show an immense retention for the industry.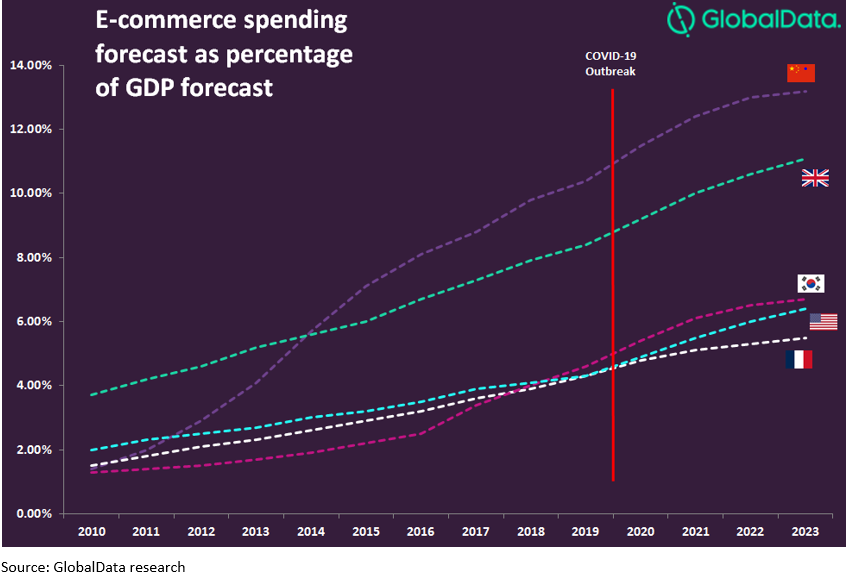 E-commerce spending as a percentage of GDP in countries where online shopping isn't that much of a novelty but is not the mainstream shopping method either has seen a boost in 2020 and is projected to grow at a faster rate than in previous years. China is expected to grow from 10.4% in 2019 to 12.4% in 2021, a whopping two-percentage-point increase of e-commerce spending per GDP. The US also has a significant growth, going from 8.4% in 2019 to 9.2% in 2020, and is projected to reach 10% in 2021.
Consumer economic behavior is changing by necessity and the truth is that convenience is one of the best products to sell. As long as people can get a service in an easier way, they will always opt for it. Online shopping and food and grocery delivering are here to stay at the very least at a much more popular level than before, if not even becoming the default method to buy products in the next few years.