Cash remains the dominant payment instrument in Slovenia, accounting for 54.0% of the overall transaction volume in 2017.
However, following efforts by Slovenian banks and the central bank's financial inclusion programmes, the payment card market is gradually growing. Payment cards accounted for 21.0% of the overall payment transaction volume in 2017, up from 16.7% in 2013.
Growths in the payment card transaction value and volume in the last five years were also supported by the rising popularity of contactless cards. Most banks in Slovenia offer contactless cards that can be used to make payments of less than €15 ($18). Debit cards are the preferred card type in Slovenia, accounting for 79.9% of the overall payment card transaction value in 2017.
High banking penetration coupled with consumer preference for debt-free payments and prudent consumer spending have led to the dominance of debit cards.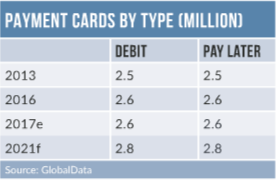 Financial inclusion remains a priority for the Slovenian government, which plays a key role in promoting financial literacy.
The central bank holds an education day to improve financial awareness and education, while the Bank Association of Slovenia aims to create financial awareness by organising workshops and seminars. Banks have also taken steps to educate consumers. Nova KBM promotes awareness among children about banking products and services through its interactive mascot, Dindin.
In terms of transaction value, charge cards accounted for a larger share than credit cards in 2017. Charge cards are mainly preferred by corporate users for high-value transactions, as they have a fixed payment timeline.
Banks in Slovenia have taken steps to boost credit card use, and most offer instalment facilities on credit cards. Abanka offers a Visa Electron card that allows holders to split payments into between two and 12 instalments. E-commerce grew in value from $222.3m in 2013 to $402.8m in 2017, at a strong CAGR of 16.0%. The young and working population is expected to drive the e-commerce market's growth. According to the Statistical Office of the Republic of Slovenia, 46% of the country's population aged between 16 and 74 purchased online between April 2016 and March 2017.

E-commerce growth is also supported by the availability of alternative payment solutions including PayPal, Skrill and paysafecard. Banks and payment service providers are launching new solutions to boost electronic payments. NLB launched its NLB Pay mobile wallet in March 2018, allowing users to save Mastercard details to the wallet and make in-store contactless payments in Slovenia and abroad. In March 2017, Fortumo collaborated with Telekom Slovenije to launch its carrier billing service, allowing users to pay for digital content on Google Play