In Saudi Arabia, cash is the preferred method of consumer payment, accounting for over 90% of the total transaction volume.
While high-value transactions are shifting to electronic platforms, most lowvalue transactions are in cash.
Although use of payment cards – primarily debit cards – is gradually rising, they are mostly used to withdraw cash rather than make payments. However, the government has taken initiatives to promote electronic payments, including the introduction of the Wage Protection System regulation in September 2013.
While debit cards remain the dominant payment card type, credit card use remains low in Saudi Arabia for religious reasons. However, almost all leading credit card issuers in the country now offer Shariacompliant credit cards.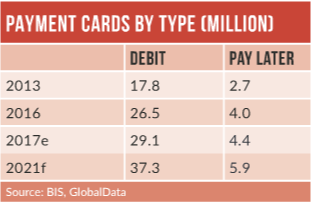 The gradual adoption of contactless technology and the emergence of e-commerce – supported by the availability of several alternative payment methods – are likely to drive the payment card market throughout the next five years.
Debit cards are the dominant card type in Saudi Arabia. The Saudi Arabian Monetary Authority (SAMA) has taken a number of initiatives to encourage electronic payments, including establishing the Mada electronic payment system and introducing mandatory wage payments into bank accounts. In September 2015, SAMA launched a modified payments network, linking all ATMs and POS terminals to a central payment switch.
Pay-later cards accounted for only 6.1% of the overall transaction value in 2017. Key factors inhibiting the growth of credit cards include the debt-averse nature of Saudi consumers, and merchant reluctance. The central bank has also set a minimum income requirement for credit cards at SAR24,000 ($6,400) per annum for banked consumers and $8,000 for non-banked consumers, making credit cards available only to certain parts of the population.
The gradual adoption of contactless payments is fostering the use of payment cards at the POS. Riyad Bank launched the country's first contactless card in September 2015, converting its entire card portfolio to contactless technology. In April 2016 National Commercial Bank also transferred its entire credit card portfolio to contactless technology.

In November 2016, SAMA launched the Mada Atheer contactless payment service, allowing cardholders to make low-value contactless payments at POS terminals. In February 2018, SAMA announced plans to extend contactless functionality to smart devices, and in March 2018 Riyad Bank partnered with payment technology provider Gemalto to launch Saudi Arabia's first contactless payment wristband.
Saudi Arabia's e-commerce market registered a strong review-period CAGR of 25.2%, supported by rises in the young population and smartphone penetration