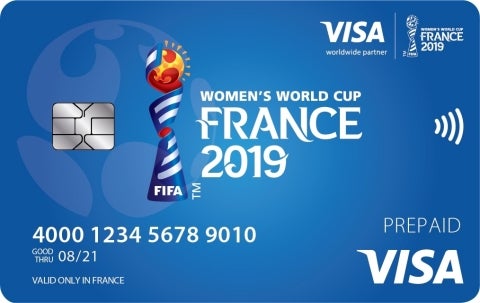 Visa unveils its global campaign for the FIFA Women's World Cup France 2019, dubbed, 'One Moment can Change the Game.'
Visa is an official payments partner of FIFA and the campaign showcases the sport contributions from women. Furthermore, these contributions highlights meaningful moments both on and off the pitch.
At the FIFA Women's World Cup France, Visa will extend its support to continuing diversity and inclusion.
Chief marketing and communications officer at Visa, Lynne Biggar, stated:
"Women's football is at a tipping point. This year has seen a global wave of support around women's empowerment. The excitement is spreading with the sold out opening and final matches for the FIFA Women's World Cup France 2019.
"Visa's long-time partnership with the FIFA Women's World Cup is more than a sponsorship, it is about being a catalyst for change and elevating women's football."
The global campaign showcases true stories of female football players. These include Team Visa female football players, Lucy Bronze (Great Britain), Eugenie Le Sommer (France), Kim Little (Scotland), Dzsenifer Maroszan(Germany) and also Nadia Nadim (Denmark).
Visa FIFA: Striking out for female players
Visa also showcases a new card design for the World Cup and launched a video for 'One Moment can Change a Game.'
Furthermore, this is the largest onsite investment in the history of women's football. In addition to its support, Visa will also enhance the fan experience at all venues.
The payment upgrades will include:
1,600 upgraded point-of-sale terminals in nine official venues
All point-of-sale terminals will be enabled with Visa sensory branding,
Commemorative contactless Visa prepaid cards and also payment-enabled wristbands will be available at Visa customer service booths in all official venues
Chief women's football officer at FIFA, Sarai Bareman, also commented:
"The FIFA Women's World Cup France 2019 is going to be the biggest women's sporting event of the year. We are delighted that Visa can join us this summer for what is going to be the best FIFA Women's World Cup ever.
"It is vital for the growth of women's football that we have partners like Visa heavily involved in our showpiece event. I am pleased to support the launch of their global campaign that centers on women's empowerment."