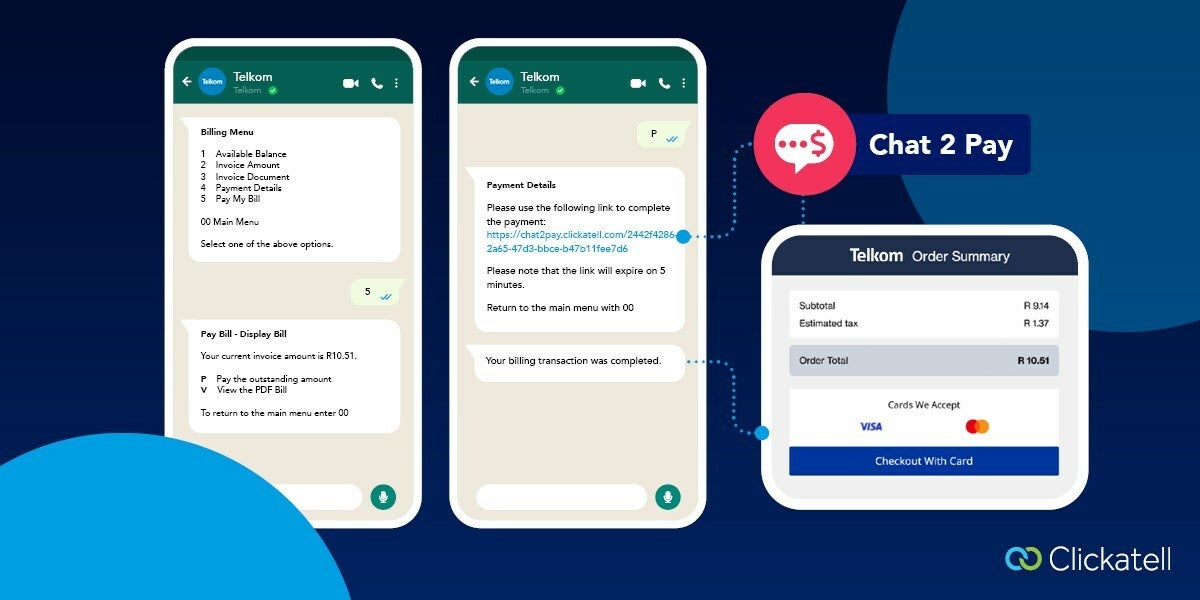 Communications company Telkom, in partnership with Clickatell, has introduced mobile messaging payments service across South Africa.
Based in the US, Clickatell is a chat commerce and business messaging platform.
The latest partnership leverages Clickatell's Chat 2 Pay feature, which can be used by Telkom customers to carry out various transactions on WhatsApp.
Both the post-paid and prepaid customers of Telkom can pay their phone bills as well as recharge and buy new service bundles through the mobile messaging app.
For making payments via WhatsApp, the customers are first required to select a menu, after which they will receive a link in a WhatsApp message.
After clicking the link, they will be directed to a checkout page for safely making their payments. The customers will also receive payment confirmation and a receipt in a chat message.
Chat 2 Pay will be offered to the Telkom clients in addition to the firm's existing chatbot feature.
It will provide the clients with a customised service to pay bills along with value-added service (VAS) top-ups through Mastercard and Visa debit and credit cards.
Telkom CMO Gugu Mthembu said: "Telkom continues to look at ways to advance our customers' digital experiences, and our digital channels are core for future delivery.
"Chat 2 Pay helps us optimise our payment channels and payment collection.
"What's more, the ease of and availability of VAS services is expected to further boost revenue opportunities."
In June 2021, Telkom rolled out Africa's first Mastercard virtual card for allowing transactions on WhatsApp.