Square's Cash app has steadily started passing PayPal's' Venmo in terms of app downloads while pushing further into cryptocurrency.
The company's push into the cryptocurrency market has led to a significant increase in downloads for the Cash App.
The total number of downloads for the Cash App is now at 33.5 million. That exceeds Venmos' 32.9 million for the first time, according to data from Sensor Tower and Nomura.
Nomura Instinet analyst, Dan Dolev has been chronicling the increase in downloads for months. Over the course of just three months, the app grew three times faster than Venmo.
Dolev estimates that Square's Cash App will generate $30 million to $40 million in adjusted revenue for the year. He stated:
"If the Cash App continues to grow rapidly, the business could reach or even exceed $100 million in sales by 2020, even without deeper active user penetration. With impressive user growth and ongoing decoupling from Bitcoin, we believe Square's monetisation efforts are increasingly bearing fruit."
Cash App expands Bitcoin reach
The payments company fully launched the feature to enable users to buy and sell Bitcoin in its Cash App in January. However, on Monday 13th August, the company tweeted that the ability to buy Bitcoin was now available in all fifty states. Previously it had been blocked from users in New York, Georgia, Hawaii, and Wyoming because of those states having more restrictions on cryptocurrency transactions.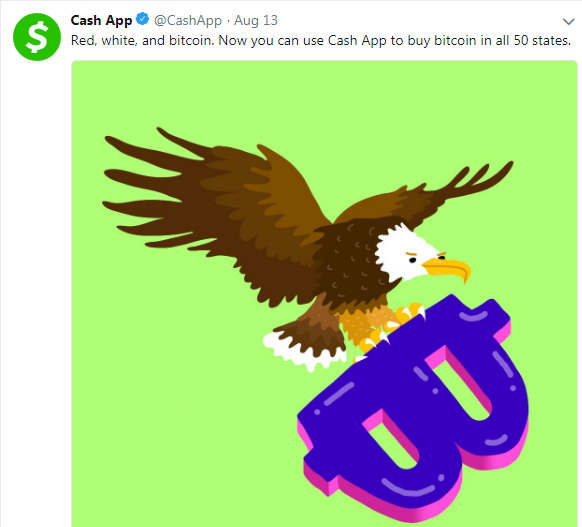 Both Wyoming and Hawaii required companies with cryptocurrency capabilities to hold cash reserves equal to the amount of cryptocurrency funds. Restrictions like this made it difficult for cryptocurrency exchanges to function. However, Wyoming lifted this restriction in March and Square swiftly moved in and expanded its Bitcoin services.
Square's stock shot up to an all-time high of $75.15 on August 14. Square announced its move into bitcoin trading in November 2017. The Cash App capabilities set to expand to cryptocurrency and from then, shares of Square have spiked.