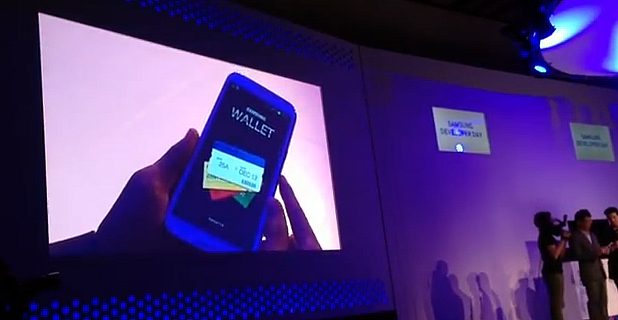 Mobile company Samsung has launched its mobile wallet for android phones, Samsung Wallet, with an initial rollout in Korea.
The company stated that the wallet is available to a range of Galaxy devices — initially the Galaxy S4, Galaxy S3, Galaxy Note, Galaxy Note II, Galaxy Note 10.1, Galaxy S II HD LTE.
The app enables consumers to store their credit card details on their device in order to make transactions with online merchants. Payment is verified using a PIN and a unique password.
The Samsung Wallet is an Android alternative to competing services like Apple's Passbook and Google Wallet, and was initially unveiled at the Mobile World Congress in Barcelona in February.
According to Samsung, about 30,000 retailers already support its wallet application, and NFC payments will be enabled in the near future. There are also plans to add support for a number of other services, including tickets, membership cards and coupons.
Furthermore, the wallet is able to deliver time and location based push notifications, notifying consumers when they are near a store or location that accepts a wallet card. Membership cards and boarding passes can be updated in real-time.
Samsung has not yet revealed a timeline for the global launch of the mobile wallet, but the app is already available in beta in the US, where the coupon-storage capability has limited availability.
Samsung Wallet includes an open API which allows other services to feed into it for payments, allowing integration with the existing base of partners including Walgreens, MLB, Expedia, Booking.com, Hotels.com and Lufthansa.
Related Articles
Visa and Samsung strike a deal at MWC
Mobile wallets not to pick up in 2013