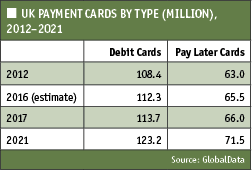 India-based Punjab National Bank (PNB) has incorporated a new wholly-owned subsidiary to augment its credit card business.
PNB Cards and Services has been registered with the Registrar of Companies, Delhi earlier this week.
The public sector lender said that the new unit will manage the non-financial support services related to its credit card business.
In its regulatory filing, the bank said that the new subsidiary will have authorised capital of $4.63m (INR250m) and the paid-up capital of $2.78m (INR150m).
The RBI data showed that PNB's number of outstanding credit cards at the end of last December stood at over 4.3 million (43,402,879).
The value of transactions through credit cards was INR1375.5m crore at the point of sale (PoS) during the month, while the value of transactions through ATMs was INR11.7m.
The number of transactions at PoS was 5,79,244 while at the ATMs the number of transactions through credit cards was 3,871 in December.
Recent developments in Indian card space
Earlier this week, reports suggested that Indian fintech startup Cred is gearing up to be the next unicorn with a funding round of $200m.
Cred, which offers rewards for paying credit card bills, anticipated to more than double its value to over $2bn with the new round of funding.
Last month, Mastercard and Razorpay teamed up to make digital payments more accessible to Indian micro, small and medium enterprises (MSMEs) and startups in India.
Earlier that month, India-based end-to-end cash and digital payment solutions provider AGS Transact Technologies joined forces with Mastercard to debut contactless cash withdrawals service at ATMs in the country.
In December, augmented identity technology provider IDEMIA announced that it is set to pilot new biometric cards – the F.CODE Gen2 for IDEMIA – in India.