New research from bill payment platform PayNearMe has revealed that US consumers struggle to pay their bills and demand faster payment experiences.
The study, How Consumers Pay Bills: Expectation vs Reality, surveyed 2,676 US consumers aged 18 or over, revealing that nearly one in three (29%) find paying bills stressful.
Meanwhile, 38% of consumers said, if they had the option, they would be likely or very likely to use Apple Pay or Google Pay to pay bills.
This comes as Covid-19 has accelerated the move to digital payments, with more consumers using new methods, such as contactless and mobile wallets.
Anne Hay, head of PayNearMe's consumer research initiative, said: "Payment innovation in the e-commerce space has upped the ante on bill pay. Today's e-commerce experiences are fast, easy and frictionless. For example, with technologies like facial recognition, consumers never have to login or remember a password to make a payment.
"Too many consumers are struggling with the cumbersome bill pay experience and it's stressing them out. Paying bills doesn't have to be so hard."
According to PayNearMe, lack of funds is not the reason consumers struggle. The research highlights that disorganisation is the main reason – 48% said they feel disorganised when trying to manage their bills, leading to late and missed payments. In addition, more than half of adults (51%) paid at least one bill late during the past 12 months.
Furthermore, 52% of consumers said remembering passwords, logins and account numbers makes paying bills difficult.
More convenient bill payments 
PayNearMe's research further revealed that consumers demand more convenient bill payment methods. Hay added: "If given the opportunity, 42% of consumers would be likely or very likely to use their digital wallet to store, view and pay their bills from a single place."
Consumers also want more mobile-friendly options for how and when they pay their bills. For example, nearly half of U.S. consumers (43%) say the convenience of using PayPal to pay bills is important or very important, and 38% say if they had the option, they would be likely or very likely to use Apple Pay or Google Pay to pay bills.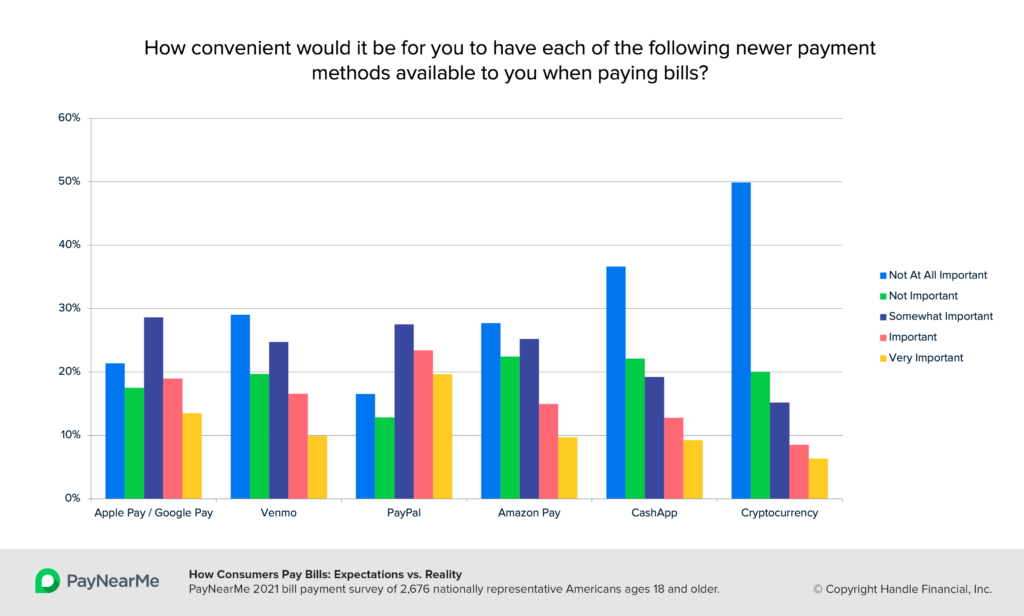 Speaking to RBI, Hay discussed the findings in more detail.