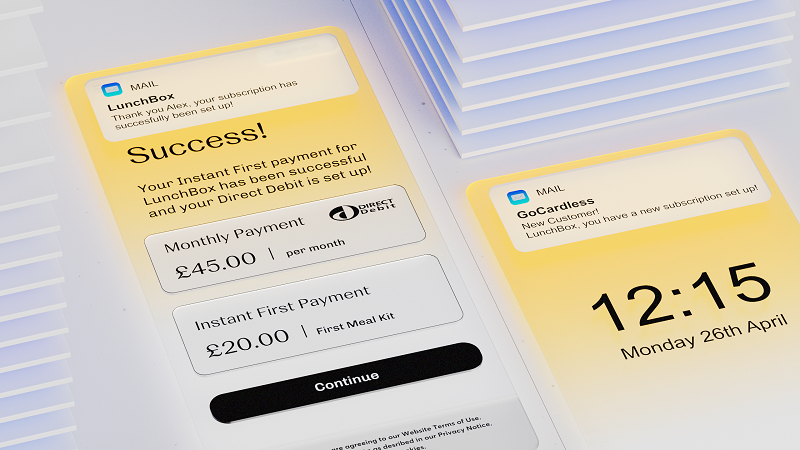 UK fintech GoCardless has launched a new open banking feature, enabling merchants to accept bank-to-bank payments.
Through the solution Instant Bank Pay, merchants can take instant, one-off bank-to-bank payments from new and existing customers.
Hiroki Takeuchi. co-founder and CEO of GoCardless, said: "We've specialised in bank-to-bank payments for over 10 years, with bank debit as the primary payment method. And while it provides many advantages to consumers and businesses, speed of payment authorisation is a drawback.
"Instant Bank Pay addresses this by giving merchants the best of both worlds: open banking will provide instant confirmation of payment authorisation, enabling them to have immediate visibility of their one-off payments, and bank debit will continue to offer the cash flow, cost and retention benefits they have come to expect."
The announcement comes after GoCardless secured $95m in a Series F funding round, bringing the company's valuation to over $970m. At the time, the company said it would use the funding to accelerate its open banking strategy by combining new technology with its global bank debit network.
Instant Bank Pay
As part of the launch of Instant Bank Pay, GoCardless plans to expand its offering into the adjacent e-commerce market. The fintech said in this capacity the solution can take on both one-off and 'card-on-file' payments.
Takeuchi added: "By enabling businesses to take any kind of payment through GoCardless, we can challenge the dominance of cards and move beyond collecting subscriptions, invoices and instalments."
Broadband provider Cuckoo used Instant Bank Pay as part of an early access programme. Speaking on this, Cuckoo founder and CEO, Alexander Fitzgerald, said: "We're taking on a broken broadband industry with simple pricing, fair contracts and exceptional service. The payment process plays a vital role in our mission and working with GoCardless means our customers have a seamless payment experience when switching to us and paying their monthly bill.
"We're excited to continue using Instant Bank Pay for one-off payments. Not only will it prevent our customers from losing access to our services, it'll also help reduce the time we spend chasing late payments and the risk of costs outstanding."