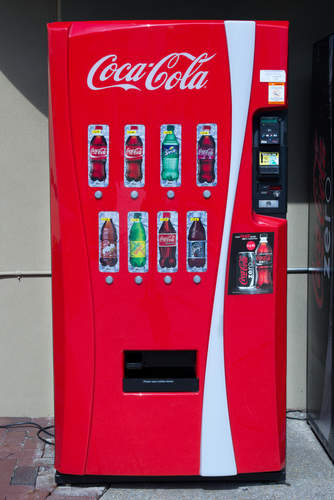 With a move to install NFC in all their vending machines, Coca Cola is the latest big brand to adapt Near Field Communications as a payment method. The transition towards contactless payments is a collaboration with the mobile payment JV Isis, which is backed by US telecoms AT&T, T-Mobile and Verizon Wireless.
Initially, the use of NFC in Coca Cola vending machines will be implemented as a trial. The company has recently expanded its acceptance of credit cards, with tens of thousands more vending machines in the US now accepting this payment option. These machines are also expected to accept contactless payments.
At the moment, 15% of Coca Cola's vending machines accept card payments and half of these accept contactless payment. The trial vending machines are located in Texas, in different shopping malls, college campuses, workplaces and retail stores.
Coca Cola has also recently introduced a partnership with Google Wallet. The move is part of a strategy to shift towards accepting more mobile payments, as Coca Cola data forecasts that credit card payments in vending machines will decrease significantly by 2020 due to mobile payments.
According to Coca Cola executives the NFC trial was implemented because, "mobile payments are key to our overall strategy and we are excited that consumers who don't have cash but want to buy coke can do so easily."
Consequently, the firm hopes that NFC can be applied to vending machines across the world, depending on the success of this trial.
Related Articles