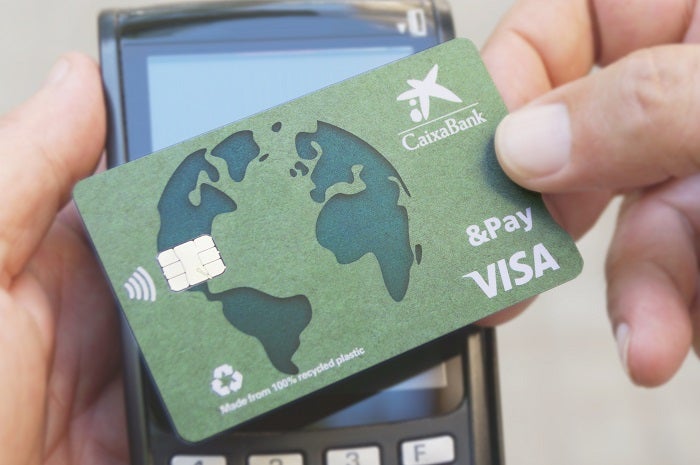 CaixaBank has today launched the first credit card in Spain to be made from 100% recycled material.
The Visa & Pay card is made entirely from recycled PVC from sources including waste from the construction industry, plastic recycling bags, and waste from other cards.
According to the bank, the project represents a further step towards the replacement of over 18m plastics on its cards with more sustainable materials in the next five years. In addition, CaixaBank has plans to market 10,000 units of the new Visa & Pay during 2020.
The announcement comes as financial institutions across the globe have been increasingly investing in more sustainable practices. For instance, last year, Amex launched a credit card made from biodegradable materials to reduce the finance sector's impact on ocean pollution.
This is also not the first time CaixaBank has launched a sustainable card. In August 2019, the bank launched a biodegradable gift card made from corn starch and biomass.
The card's features
The new eco-conscious card offers the same financial services as a Visa & Pay credit card. However, it also incorporates innovations compared to the usual standards, such as the possibility of rounding up each purchase for savings which can be donated to an environmental NGO.
Furthermore, as part of the campaign, CaixaBank will finance the planting of a tree for each new card. The aim is for the bank to offset its carbon footprint.
CaixaBank customers can request the card in branches and online via the bank's website.
History of sustainability
Over the past few years, CaixaBank has made it a leading policy to mitigate the effects of climate change. For instance, the CDP organisation has included the bank in the index of leading companies in the fight against climate change for the past six years.
In February 2019, CaixaBank published a Declaration on Climate Change – a proposal of five lines of action. This included commitments related to decarbonisation.
The Spanish bank also participates in the green bond market for sustainable investment, and donated €2.4bn to renewable energy projects in 2019.