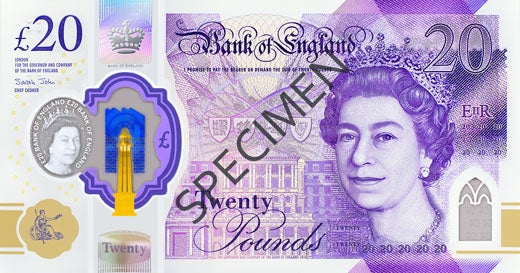 The UK's new plastic £20-notes come into circulation today and will eventually replace the current paper £20-notes.
The new banknotes are made from a plastic polymer, like the new £5 and $10 denominations and are said to be more durable, cleaner, and secure than paper bank notes.
With the release of the plastic banknotes, Britain is joining the list of more than 30 countries that already use plastic banknotes, including Australia, which adopted the notes in 1988, and Singapore and New Zealand.
For a time, the new plastic notes will be concurrently used with the paper notes already in circulation. The Bank of England will give a 6 months' notice of the date the paper bills will no longer be a legal tender.
The Bank of England hopes the new notes will be much more difficult for fraudsters to copy successfully.
Key Security and design features
Two key security features help to confirm that the note is genuine. Tilting the note from side to side, reveals a hologram image change between the words "Twenty" and "Pound". A look at the metallic image over the main see-through window shows the foil is blue and gold on the front of the note and silver on the back.
On the front of the note (the side with raised print), there are three clusters of raised dots in the top left hand corner. This tactile feature helps blind and partially sighted people identify the value of the note.
The higher the value of a note, the larger it is. This note is approximately 139mm x 73mm. A portrait of the Queen is printed on the window with '£20 Bank of England' printed twice around the edge. On the back of the note is a self-portrait of Joseph Mallord William Turner, one of Britain's most famous Romantic painters.
Turner was selected after Bank of England governor Mark Carney asked the public to nominate a deceased cultural figure.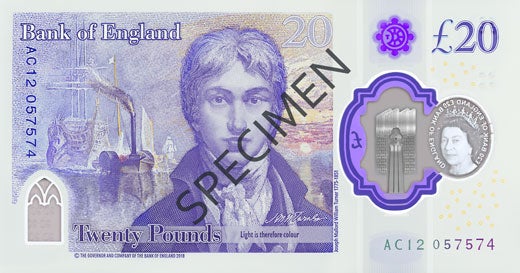 Target 2020
After 2020, all notes in circulation in the UK will be made from plastic apart from the £50.
According to the Bank of England, the new polymer £50 should be in circulation by the end of 2021.
Scientist Alan Turing, best known for his work devising code-breaking machines during World War II, will feature on the note.
The Bank of England used to make a £100 note – but it's been out of circulation since 1945.