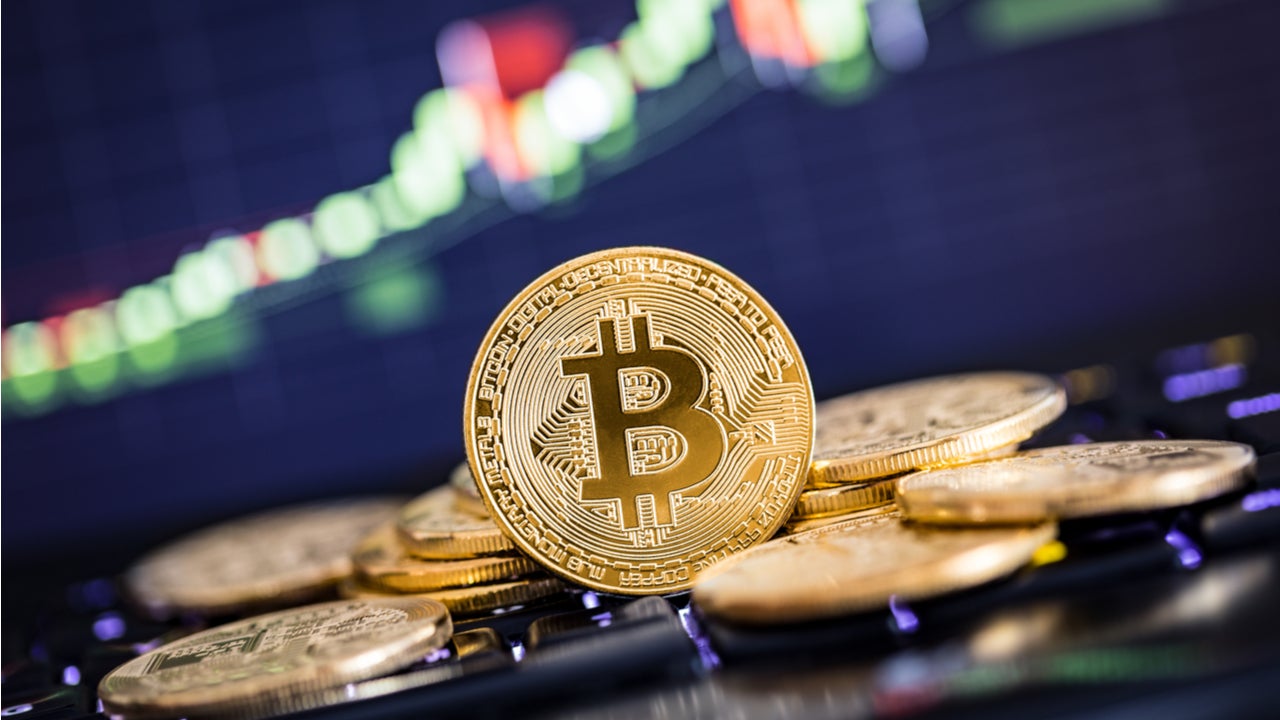 Electronic Payments International lists the top five terms tweeted by payments tech trends influencers in October 2020, based on data from GlobalData's Influencer Platform. The top tweeted terms are the trending industry discussions happening on Twitter by key individuals (influencers) as tracked by the platform.
1. Bitcoin – 1,710 mentions
The success of bitcoin over the long-term, the finite supply of bitcoins and investments in bitcoin were popularly discussed in October. According to an article shared by Jameson Lopp, chief technology officer (CTO) of the crypto start-up Casa, although the success of bitcoin in the long term cannot be established, fiat currency is likely to fail. As fiat or government-issued currency is not backed by any physical reserve or commodity such as gold or silver, experts believe that it could lose value during inflation or completely fail in the event of hyperinflation.
Bitcoin also trended in discussions related to its finite supply, according to a tweet by Barry Silbert, founder of the venture company Digital Currency Group (DCG). The influencer stated that there will be only 21 million bitcoins till the next release at a predictable mining rate. Of the 21 million, more than 17 million bitcoins have been mined globally. Bitcoin witnessed a surge in demand in 2017 to reach an all-time high of $20,000. However, reports suggested that crypto-related crimes also arose at the same time.
Other discussions around bitcoin were related to bitcoin investments. Erik Voorhees, a crypto entrepreneur and the CEO of ShapeShift.com, a crypto platform, shared an article on Square's $50m investment in bitcoin. Square, a financial services company, believes that crypto can be an important tool for economic empowerment, with its growing adoption paving the way for a global monetary system.
We can't be sure that Bitcoin will succeed over the long term, but we can be quite certain that fiat will fail. pic.twitter.com/Lwo1mnom3o

— Jameson Lopp (@lopp) October 27, 2020
2. Crypto & Blockchain – 738 mentions
New ways of purchasing crypto, use of crypto to ensure privacy and UK's public sector receiving a blockchain boost were popularly discussed during the month. According to an article shared by Tyler Winklevoss, the co-founder and CEO of Gemini, a cryptocurrency exchange, crypto can be purchased by using a debit card on Gemini. However, the platform does not accept credit or prepaid cards now, although people can fund their account via an automated clearing house (ACH) transfer in the US or electronic transfer.
Crypto also trended with respect to digital assets becoming the norm to ensure privacy, especially with the world going completely cashless, according to a video shared by Charlie Shrem, an entrepreneur and bitcoin advocate. Shrem shared an interview with Simon Harman, the CEO of the Loki Project, a privacy network, who discussed his views on the need for crypto to ensure privacy in a world that is transitioning to complete cashless societies.
In other discussions, Spiros Margaris, a VC futurist, shared a study from PricewaterhouseCoopers (PWC) on how blockchain technology could provide a $75bn boost to the UK's public sector. The study suggests that the technology will finally gain ground during the pandemic with the need to increasingly secure information from home. Blockchain technology is also expected to boost the world economy, with US and China leading the pack with a $400bn boost, while UK and Japan will follow, the study highlighted.
We're making it easier to buy crypto. You can now use your debit card 💳 to purchase crypto on @Gemini https://t.co/6WW8j3fS9J

— Tyler Winklevoss (@tyler) October 5, 2020
3. Fintech – 468 mentions
Funding for fintech enterprises, the importance of fintech across industries and the impact of US senate elections on fintech and payment companies were popularly discussed during the month. Alex Jiménez, chief strategy officer at digital strategy firm Extractable, shared an article on Finextra, a financial technology company, announcing a funding round for XTransfer, a Chinese fintech start-up providing cross-border services for small and medium enterprises (SMEs). The funding will support SMEs in trade and ecommerce as the market opens for economic activities.
Spiros Margaris further shared an article on how fintech tools can help in supporting artist-centric businesses. Most financial tools such as Mint, Braintree and Square do not help fund the music industry. However, similar fintech solutions coupled with industry unions can help artists fight for fair compensation amid the market downturn.
Fintech also trended with regards to US senate elections determining the outcomes for financial services, fintech, technology, and payments policies. For instance, financial services professionals preferred full control over the policies and regulations proposed by Congress and the White House and were more skewed towards the conservatives. A split in the senate would dramatically impact payment policies, the article noted. Additionally, the entire agenda would change as Democrats favoured stricter regulation of banks and financial institutions, while Republicans favoured de-regulation, the article highlighted.
Cross-Border Payment #Fintech XTransfer Announces Another Round of Fundinghttps://t.co/4BMv5eZDZa#finserv #banking #payments #paytech

— Alex Jiménez (@RAlexJimenez) October 23, 2020
4. Ethereum – 219 mentions
The need to support Ethereum (ETH) and the insights shared by the godfather of ETH, Yanislav Malahov, were popularly discussed during the month. According to Vitalik Buterin, the co-founder of Ethereum and the Bitcoin Magazine, more people should support ETH for payments opting for layer two scaling solutions to evade huge gas fees.
Responding to a tweet suggesting that the Square payments platform refused to support ETH and Bitcoin, Buterin noted that supporting ETH comes with added benefits to support other digital assets for free such as UNI, wrapped bitcoin, Maker, as well as other stable coins. The crypto community has reacted to the hike in transfer fees in the recent months, thereby making ETH expensive and slow.
Another discussion around ETH was regarding Charlie Shrem's discussion with the godfather of ETH, Yanislav Malahov, on his plans with Aeternity, a next generation blockchain platform that allows high-speed transacting, mass adoption, smart contracts, interoperability of cryptocurrencies, and more.
Malahov adds that ETH enabled updatable algorithms or smart contracts on the blockchain. Users could also programme their own consensus rules into the blockchain itself and smart contracts can then be enforced by older networks. Despite the slow progress on blockchain, he believes that the technology will be able to influence the global society to work together in the future. For instance, he states that blockchains can be super powerful for holding democratic elections and that the crypto community is evaluating such concepts.
More people should support ethereum for payments. The nice thing about supporting ethereum is that you're not just accepting ETH, you also get support for MKR, UNI, WBTC, and every stablecoin for free. And there's already like three working layer-2 scaling solutions on mainnet. https://t.co/EdD7J8isk8

— vitalik.eth (@VitalikButerin) October 1, 2020
5. Open Banking – 76 mentions
Open banking strategies adopted by banks to provide digital experiences to customers and partnerships were popularly discussed topics in October. According to an article shared by Tolga Tavlas, a fintech influencer, banks are turning to open banking strategies to provide critical services to customers.
The digital banking platform is now being converted into an open banking platform, where banks are not just digitising their business processes but also transforming their business models to suit the modern needs of the customer. Financial institutions are thereby building a marketplace of application programming interfaces (APIs) that can be accessed internally and externally to aggregate offerings that are suitable for customers.
Other discussions on open banking was shared by Marvin Stone, a senior vice president of business integration at Stewart, on the French fintech app Lydia partnering with the finance app Tink, for leveraging the latter's open banking platform. Tink's payment services will be integrated into Lydia's app to improve services and connectivity, under the agreement. Lydia users will be able to connect with other bank accounts, manage their beneficiaries and make transactions through the integration.
French Payment Fintech Lydia Selects Tink as Its European Open Banking Partnership https://t.co/GXZsEjlEN6 via @financialit_net

— Marvin Stone (@MarvinStone) October 12, 2020