The US payment card market is very mature, with a high penetration rate of more than four per cards per inhabitant.
A wide range of card-issuing and alternative payment brands, including P2P, e-commerce and mobile proximity payments, are available. US consumers have a great deal of choice as a result, and there are a wide variety of both specialist and generalist products available.
Use of cash is gradually declining, with cards used infrequently at ATMs; it remains an important part of the market, however, and the US is not yet a cashless society. Card issuers should therefore emphasise the benefits of contactless technology to make payment cards even more attractive as an alternative to cash.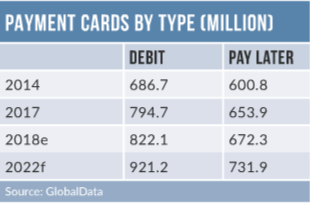 Companies from diverse sectors have launched solutions to gain market share. Mobile phone manufacturers such as Apple and Samsung, technology giant Google, banks including JPMorgan Chase, Wells Fargo and Capital One, and retailers such as Walmart have all launched their own payment solutions. In this highly competitive market, these companies are also expanding the scope of their solutions beyond payments to retain customers and attract new ones.
The credit card market registered the fastest CAGR of 8.7% during 2014-2018 in terms of transaction value. US consumers increasingly prefer credit cards over debit cards because of their attractive reward and bonus programmes.
However, growing APRs are becoming a cause for concern among credit card holders, with the average APR rising from 13.19% in 2014 to 15.54% in May 2018. Following the Federal Reserve's decision to increase benchmark interest rates in June 2018, card issuers including JPMorgan Chase, American Express, Citibank, Bank of America and Discover increased their APRs accordingly.

Debit card adoption is high, with every US consumer holding more than two debit cards. This is supported by the high banked population and strong financial awareness. However, the share of debit card payments declined during 2014-2018, both in terms of transaction value and volume – a trend that is anticipated to continue until 2022. Frequency of debit card payments also remained stagnant, largely because of a lack of incentives; some issuers are now rolling out reward programmes, however.
The US e-commerce market registered a robust CAGR of 12.2% during 2014-2018. While credit cards account for the largest share of any single payment tool, as a result of their familiarity and convenience, alternative methods including Apple Pay, Chase Pay, Samsung Pay and Google Pay are also used for e-commerce.
Apple Pay has also expanded to web payments via the Safari browser on an iPhone, iPad or Mac, while Google has partnered with Visa Checkout, allowing users to link accounts with Google Pay.