Ukraine's economy was severely affected by the global financial crisis of 2008 and the political crisis of 2013–14, which had a significant impact on the banking industry. As a result, over 90 banks were declared insolvent between 2014 and 2017.
The Ukrainian government has taken several initiatives to improve this situation, such as launching a financial inclusion programme, improving access to banking through digital channels, and establishing the deposit insurance programme to build consumer confidence in the banking sector. These efforts led to a rise in the overall banked population, with the percentage of the Ukrainian population aged 15 or above with a bank account standing at 65.6% in 2018, having risen from 52.7% in 2014.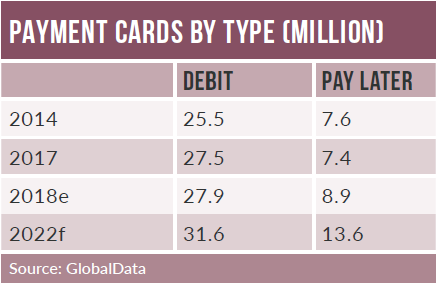 The government has also introduced restrictions on use of cash for individuals and businesses, to reduce dependence on cash and promote electronic payments. Banks are also encouraging card use through reward programmes, discounts and cashback offers.
Meanwhile, rising adoption of contactless payments and the emergence of the e-commerce market, coupled with the introduction of alternative payments, are expected to further drive the overall payment market's growth between 2018 and 2022.
The Ukrainian payment cards market is almost entirely driven by debit cards, which accounted for 96.6% of the total payment cards market transaction value in 2018. Government financial inclusion initiatives, coupled with a rise in public awareness of the banking system, have supported the growth of debit cards.
In Ukraine, payroll and social programs are an important means of issuing cards, and have led to the widespread issuance of debit cards. Debit cards were also the most preferred card type, with frequency of debit card use for payments averaging 96 times per card per year in 2018 – more than six times that of credit cards.
Rising preference for contactless payments for low-value transactions is also driving the overall payments market. Major banks in Ukraine such as PrivatBank and Oschad Bank now offer cards with contactless features. According to data from the central bank, there were 3.6 million contactless cards in circulation as of September 2018, up by 31.4% from January 2018, while 78.8% of POS terminals are enabled with contactless functionality.
According to a study by Mastercard, the number of contactless payments made with Mastercard via mobile wallets in Ukraine rose by 68% between August 2017 and August 2018.
E-commerce transactions registered growth of 30.9% between 2014 and 2018, supported by rising consumer confidence, and the availability of affordable internet access and smartphones.