The UAE payments market is defined by a high consumer reliance on cash, which accounted for 84.6% of the total payment transaction volume in 2017.
This was primarily because consumers in the UAE see cash as a quicker and safer payment option. However, card payments are increasingly supported by government financial inclusion programmes, promotional campaigns by financial institutions, and the adoption of new technology.
In terms of transaction volume and value, debit cards will continue to dominate the overall payment card market. However, their usage is mostly confined to cash withdrawals at ATMs. Pay later cards will remain the preferred card for payments at POS terminals. Growth in the Emirati payment card market will be largely driven by credit and charge cards, with their growth rates outreaching pay now cards throughout the forecast period to 2021.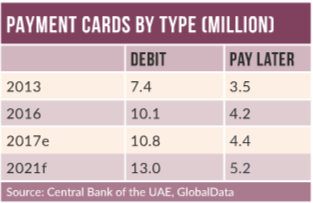 Improving financial inclusion has driven the adoption of electronic payments in the UAE. The government introduced the Wage Protection System (WPS) in January 2009, requiring all wage payments to be made through a bank, bureau de change, or other authorised financial institution.
The WPS offers transparency to both domestic and foreign workers, and addresses delayed or non-payments. All institutions registered with the Ministry of Labour are required to use the WPS.
The credit card transaction value at POS recorded a CAGR of 12.9% during 2013–2017. Sharia-compliant cards, reward programmes, value-added services, and promotional campaigns have all been employed to encourage credit card use.

Banks also allow consumers to transfer credit card balances. Rakbank's balance transfer service is interest-free for three months, and charges a 2% rate thereafter.
The introduction of contactless cards has also supported credit card market growth. In November 2015, Citibank partnered with Mastercard to introduce contactless payment technology for Citi Mastercard card holders. The service allows consumers to make contactless small-ticket payments up to AED100 ($27.20).
Immigrants accounted for 88.4% of the UAE's resident population in 2015, according to the International Organisation for Migration. Many expatriate workers use prepaid cards to remit funds to their home countries. The WPS scheme has resulted in a number of companies in the UAE using prepaid cards for payroll purposes.
Many banks in the UAE offer prepaid cards that can be used by holders to transfer funds or remit money between cards. TransCash Corporation offers the TransCash Mastercard Prepaid Money Sharing card, primarily for workers who do not have access to formal banking and require remittance services. The card can also be used by UAE nationals to transfer funds from one card to another in the domestic market.