Cash remains the preferred method of payment in Taiwan, accounting for more than three-quarters of the total payment transaction volume.
Consumers in Taiwan have a strong inclination for cash for day-to-day transactions, despite a gradual rise in electronic payments. However, the government has been promoting electronic payments through initiatives such as the Act Governing Electronic Payments Institutions. This, coupled with increased merchant acceptance, resulted in card payments recording a CAGR of 7.5%, in terms of transaction value, between 2014 and 2018.
While debit cards dominate in terms of overall transaction value, use of these cards is largely limited to ATM cash withdrawals. Credit cards are preferred for card payments, accounting for three-quarters of the total value.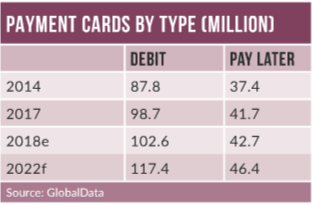 The gradual adoption of contactless technology and growth in e-commerce payments are expected to further drive the overall payment card market for the foreseeable future.
Taiwanese consumers are more likely to use credit cards than debit cards. Keys drivers behind this preference are the benefits linked to credit cards. In a fragmented payment card market such as Taiwan, consumers tend to be very demanding. This means banks and issuers have to go to increasing lengths to attract new customers, particularly for lending products such as credit cards. As a result, there are a number of reward programmes and special offers attached to credit cards.
Taiwan's e-commerce market is one of the fastest growing in Southeast Asia. It is driven by high internet and smartphone penetration, rising adoption among the younger population, and growing confidence among consumers. The e-commerce market is acting as a driver of electronic payment market growth, owing to the availability of various payment options, including debit and credit cards. The emergence of alternative payment methods will also drive e-commerce over the next five years.

The government intends to increase the percentage of mobile phone users who make mobile payments from 13% in 2018 to 90% by 2025. In January 2018 the government announced plans to subsidise transaction fees for in-store payments made by mobile phone, and provide discounts to consumers who pay utility bills via mobile. The government also plans to allow small businesses to continue paying business tax of 1%, even if they expand their operations, as long as they provide mobile payment options.
POS penetration in Taiwan is low, largely as a result of the dense urban environment, with numerous smaller merchants competing for low margins. Many retailers do not accept cards; to overcome this, banks are offering mPOS terminals at lower costs than traditional POS terminals.