Cash remains the preferred method of consumer payment in Taiwan, accounting for more than three quarters of total payment transaction volume. Consumers in Taiwan have a strong inclination towards cash for day-to-day transactions despite the gradual rise in electronic payments.
The government of Taiwan has been promoting electronic payments through various initiatives, and the necessary payment infrastructure is in place. But ATMs are ubiquitous, the retail environment is highly competitive, and the dense urban environment lends itself to the use of cash. Meanwhile small informal merchants with low margins are typically unwilling to absorb the direct cost of card payments, even though cash often attracts higher indirect costs.
Debit cards dominate card holdings
Debit card penetration in Taiwan stood at 413.8 cards per 100 individuals in 2017, the highest rate among its regional peers. However, debit card usage is mostly restricted to ATM cash withdrawals, which record frequency of use (transactions per card per year) 10 times higher than for POS transactions. This is because consumers prefer cash for low-value transactions at retail outlets, which is one of the challenges hindering debit cards usage.
Average transaction value on debit cards is higher in comparison to credit cards, which stood at only TWD2,601 ($80.20) at POS in 2017. At around once per year, debit cards are used on the rare occasion when other payment methods are not accepted. As an average figure, transactions are spread over many cards that saw zero transactions.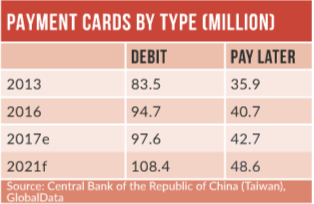 E-commerce payments to grow rapidly
Taiwan's e-commerce market is one of the fastest growing in Southeast Asia, and is driven by the rise in internet and smartphone penetration. The e-commerce market is acting as a driver for electronic payments market growth, owing to the availability of multiple payment options such as debit and credit cards, card on delivery, bank transfers, and digital and mobile wallets. In the future e-commerce will grow in the low-value transaction space as consumers become more inclined to buy products using their mobile phones.
Growing consumer preference for contactless payments
Taiwanese consumers have been familiar with contactless payments since the introduction of the EasyCard subway transit cards in 2002, and awareness is very high as a result. In addition to contactless cards, mobile contactless payments are also gaining prominence, supported by the launch of mobile payment solutions such as Apple Pay, Android Pay, and Samsung Pay.

Prepaid cards are mostly used for public transport services
Prepaid cards are increasingly gaining acceptance among Taiwanese consumers, as they do not require a bank account and are accessible to consumers who do not qualify for a debit/credit card.
EasyCard is the most popular multi-purpose stored-value card offered by EasyCard Corporation for public transit. It can also be used to pay for bus and taxi fares, as well as fees at designated car parks, stores, government facilities, hospitals, and tourist spots.
It can be purchased for $3.10 and recharged at Taipei and Kaohsiung metro stations, as well as retail stores such as 7-Eleven, FamilyMart, Hi-Life, and OK Mart. It can also be used to make online or retail purchases. Due to its multi-use functionality, the card is widely popular in Taiwan for daily necessities.