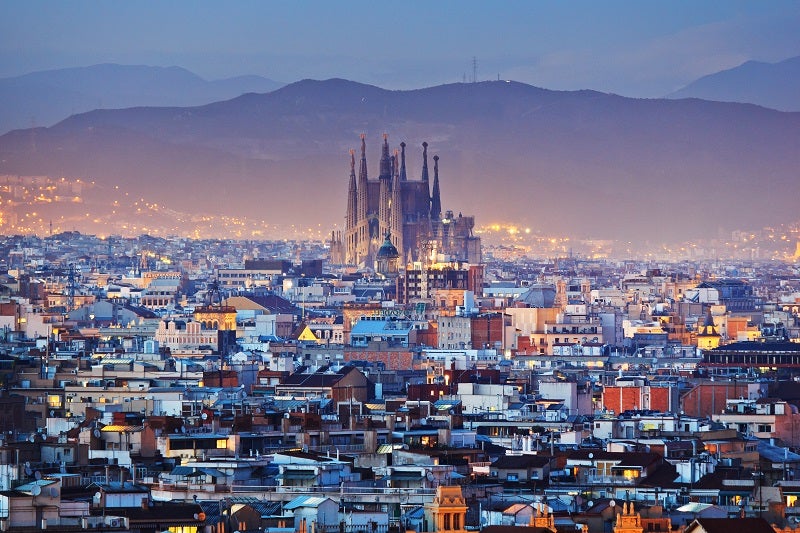 Cash remains the preferred method of payment among Spanish consumers, accounting for 63.2% of the total payment transaction volume in 2019.
However, with government initiatives, concerted efforts by banks, rises in consumer awareness and confidence in digital payments, and wider improvements to the payment infrastructure, Spanish consumers are gradually shifting towards greater adoption and acceptance of electronic payments.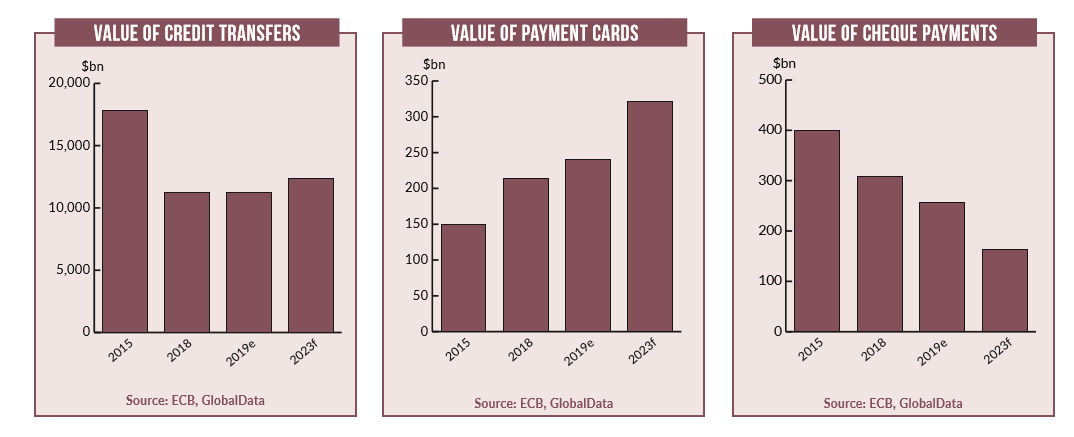 The growing acceptance of payment cards by retailers, which is stimulating consumer uptake, and the advent of contactless technology are anticipated to reduce the share of cash in the economy in the period to 2023.
To accelerate the use of electronic payments, banks are increasingly turning to low-cost channels such as online and mobile to offer products and services.
The adoption of electronic payments is anticipated to rise further over the next five years with the proliferation of digital-only banks, the introduction of new payment technologies, and growth of e-commerce payments in Spain.
Debit cards preferred
Despite low levels of penetration, debit cards remain the most used card type in Spain, with debit card payments accounting for 65% of the total card payment value in 2019. This reflects the generally debt-averse nature of Spanish consumers.
The frequency of debit card payments is rising progressively, up from 68.2 times a year in 2015 to 136.5 in 2019, at a CAGR of 18.9%.
Increased debit card use is supported by the availability of customised debit cards and value-added services, and rising acceptance of contactless debit card payments at retail outlets.
Contactless technology 
Spain has embraced contactless technology, with leading banks including CaixaBank, Santander and BBVA offering contactless cards. The growing popularity of contactless has encouraged retailers to install POS terminals with contactless functionality.
Growing adoption of the technology on public transport will further encourage contactless card use. The Municipal Transport Company of Madrid (Empresa Municipal de Transportes de Madrid – EMT) extended contactless payments to all its 2,075 buses in November 2019, allowing commuters with an American Express, Mastercard or Visa contactless card to make contactless payments for fares.
Rising e-commerce
The e-commerce market in Spain has grown strongly, rising from €20.7bn ($23.8bn) in 2015 to $49.7bn in 2019 at a CAGR of 20.2%. Ongoing improvements in technology and rising smartphone penetration have resulted in significant growth of online transactions in Spain.
To aid e-commerce, all major banks are offering virtual cards specifically for online transactions. In addition to traditional payments, alternative solutions such as PayPal, Apple Pay, Google Pay and paysafecard are used extensively for the purpose of online shopping.
Ongoing developments in the logistics industry will further support e-commerce market growth. In March 2019, Correos, Spain's national postal service, partnered with AliExpress and Cainiao Smart Logistics Network, a logistics operator owned by Alibaba, to speed up package distribution between Spain and China. The partnership also aims to support Spanish SMEs in expanding sales to overseas markets.
Infrastructure 
The number of POS terminals increased from 1.6 million in 2015 to 1.9 million in 2019. With the increased number of POS terminal installations at retail outlets, the country's potential for card-based payments also grew.
In addition to conventional POS terminals, mPOS terminals are also being introduced in Spain. In March 2018, LG Spain partnered with Verifone to introduce the LG Biz & Go mPOS solution for SMEs. The solution comprises a mobile app integrated with an LG smartphone and an mPOS e265 Verifone terminal.