Poland is one of Europe's most advanced and innovative markets, offering consumers broad access to the latest electronic payments technology. Nevertheless, cash remains very popular, accounting for 61.5% of the total payment transaction volume in 2017.
Card use is rising as consumers embrace new technology, moving from cash to payment cards to contactless. Although cash is very much the dominant means of payment, there was huge growth in the volume of debit card transactions between 2013 and 2017: the number more than doubled, as consumers preferred debt-free payments and avoided unnecessary expenditure. Government initiatives to promote paperless and cashless transactions, and the launch of new mobile POS technology will boost adoption of electronic payments in the country.
The government has been encouraging businesses to open bank accounts for employees, and salaries are now paid into bank accounts. It is also focusing on electronic payments to distribute pensions and retirement benefits.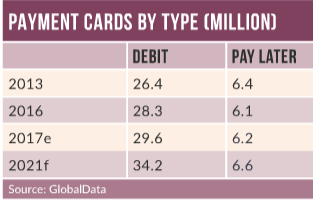 Poland's growing banked population has also led to rising debit card penetration. According to the World Bank, Poland has made substantial progress in terms of financial inclusion, with the percentage of the population aged 15 or above with a bank account rising from 75.4% in 2013 to 83.1% in 2017.
The high banked population and consumer aversion to debt have made debit cards the preferred card type in Poland. Consumers are gradually switching from cash to debit cards, and used them an average of 117 times for POS transactions in 2017 – almost double the amount for pay-later cards.
A rise in contactless acceptance has supported this trend. A number of banks, including PKO Bank Polski, mBank, Bank Zachodni WBK and Bank Pekao, now offer contactless debit cards.

The growth of pay-later cards was halted at the end of 2010, as non-performing loans rose. The T-Recommendation issued by the Financial Supervisory Commission in Poland took effect in August 2010, restricting consumer access to bank loans and consumer credit; consequently, consumers faced more stringent scrutiny when applying for a credit card.
The new regulation imposed additional requirements on banks to check the creditworthiness of new customers. Issuers also deactivated inactive cards, resulting in a decline in credit card circulation
As a result, banks turned their attention to increasing credit card use. Consequently, reward credit cards have started to gain traction, with Bank Pekao, PKO Bank WBK and ING Bank Śląski offering flexible repayment options, 56-day interest-free credit periods, discounts, reward points and cashback offers. Many also offer facilities to convert large-value purchases into monthly instalments.