Few individuals in Norway use cash on a daily basis, and most possess a minimum of two payment cards.
Norway's strong card and payment industry is the result of a robust economy, an efficient domestic debit card scheme, BankAxept, and increasing consumer appetite for credit. The average number of monthly card transactions and the average annual spend per card are higher in Norway than in developed markets such as the US, the UK, France, Germany and Australia.
Electronic payments have gained ground during the last 10 years, as the government has invested substantially in building long-term infrastructure for cashless transactions. Affordable and widely available financial products, consumer preference for e-payments, a competitive marketplace and a transparent business environment will aid the move towards a cashless society.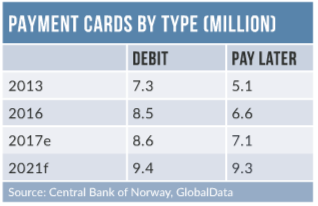 Domestic debit network BankAxept, which is owned by Norwegian banks, has established acceptance coverage that covers the vast majority of the country. BankAxept operates on a no-interchange-fee model and has a strong acceptance network.
However, BankAxept cards cannot be used for online shopping and international transactions. This has led to growth in the use of international schemes such as Visa and Mastercard, and payment cards are co-badged with international providers. All domestic debit card-based POS transactions and ATM withdrawals are carried out by BankAxept, while international and online transactions are handled by international schemes.
E-commerce recorded a CAGR of 14.9% between 2013 and 2017, with Norwegian consumers happy to buy little and often online. Key drivers include a wider selection of goods available than in-store, easy-to-use online websites, and no duty on foreign purchases under NOK350 ($44). Conventional instruments including payment cards and credit transfers remain the preferred payment method among Norwegian consumers.

A growing preference for cashless transactions and high smartphone penetration have led to a rise in demand for mobile payments. Alipay launched in Norway in September 2017, and the country's first mobile peer-to-peer payment solution, Vipps, was launched by DNB in May 2015. More than 100 banks now support the solution, which is used by over two million users.
Contactless technology in Norway is developing. To increase uptake, banks and scheme providers are attempting to differentiate their products by introducing new features. In December 2016, Oberthur Technologies, a provider of embedded security software products and services, and Eika Alliance launched the first contactless dual payment card in Norway, enabling contactless transactions at more than 100,000 merchants.