The Dutch payment cards market is mature, with a high penetration rate of 1.9 cards per inhabitant. The market is dominated by debit cards, which consumers perceive to be secure, cost-effective and consumer-friendly.
Pay-later card payments are not popular due to a cultural aversion to debt. Dutch consumers are very comfortable using debit cards – accounting for 90% of the overall transaction value in 2017 – and online payment channels, especially local brand iDEAL, which is backed by wide acceptance and a convenient user experience.
Growth in the payment cards market is supported by well-developed infrastructure, with one POS terminal per 34 individuals. E-commerce market growth is attributed to high internet and smartphone penetration.
Despite a high level of consumer comfort with established payment instruments, recent developments in mobile proximity payments and contactless technology by ING, Rabobank and ABN Amro will see these payment options gain traction among Dutch consumers.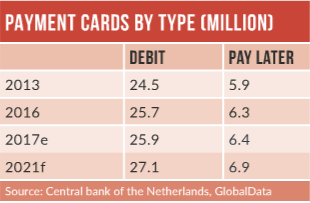 Debit cards remained the most widely used payment card, accounting for 90% of the total payment card transaction value in 2017. The migration of low-value cash transactions to debit cards was a key trend, and according to the Dutch Payments Association, the number of debit card transactions valued at under €10 ($11) increased by 17.2% in 2016.
Banks and other financial service providers signed the Nadere Overeenkomst II agreement in September 2014 to reduce cash usage by 2018, by converting cash payments to debit transactions.
The Netherlands has recorded an uptake in contactless payments. According to the Dutch Payments Association, the number of contactless payments in 2016 rose by almost five times to reach 630 million, compared to 135 million in 2015.

In December 2016, 24% of all debit card payments were contactless. ABN Amro replaced all its payment cards with contactless functionality in December 2015; similarly, ING Bank and Rabobank are replacing old cards with contactless-enabled payment cards.
iDEAL remains a market leader in Dutch third-party payment services. The company currently serves 10 milllion customers through 100,000 merchants. The service is offered by 10 issuing and seven acquiring banks as well as 59 collecting payment service providers. In total, 283 million payments worth €23.7bn were successfully processed through iDEAL in 2016. The average transaction amount was €81.40.
Pay-later cards accounted for only 9.9% of the total payment cards transaction value in 2017, primarily due to consumer preference for debt-free payments.
Although banks started issuing credit cards in the early 1980s, growth has remained low; for many, overdraft facilities have reduced the need for credit cards.