Luxembourg's payment card market is mature, with a high penetration rate of 4.6 cards per inhabitant.
Cards are the preferred payment instrument, accounting for 54.1% of the total consumer payment transaction volume in 2018. Improved payment infrastructure, high consumer awareness, enhanced security and growing adoption of contactless will support growth.
Luxembourg is also host to a number of wealthy individuals and large corporations, and most banks offer private banking, wealth management and asset management services. Credit cards are mostly offered as part of bundled packages, while debit cards are widely used for low-value card payments.
E-commerce registered robust growth between 2014 and 2018, and this trend is expected to continue, providing opportunities for the payments market.
Rising adoption of contactless technology contributed to growths in the payment card transaction volume and value over the past five years. With a growing number of retailers accepting contactless payments, this trend will continue to drive card transaction values and volumes until 2022 at least.
Debit card penetration stands at 1.3 cards per individual, supported by a high adult banked population, which stood at 99.2% in 2018. The entry of digital-only banks such as N26 and Ferratum Bank has also supported debit card market growth.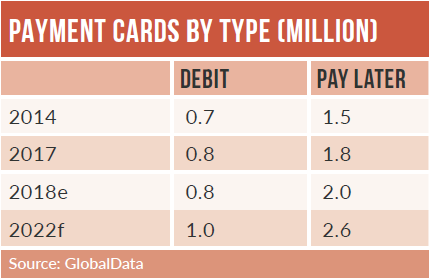 Frequency of debit card payments is rising, registering a healthy CAGR of 5.5% to increase from 78.1 times a year in 2014 to 96.9 times in 2018. Rising use has been supported by the availability of value-added services and growing merchant acceptance of contactless debit cards.
Credit card penetration is high in Luxembourg, with each individual holding three cards as of 2018. Consumers are avid users of credit cards, which accounted for 61.8% of the total card payment value in 2018. Many banks offer credit cards as part of banking packages, with card use also benefiting from rises in disposable income and household consumption.
Banks also offer private banking services with premium credit cards and a range of value-added services to wealthy customers as part of bundled packages.
E-commerce in Luxembourg grew from €535m ($612.9m) in 2014 to $928.5m in 2018, at a CAGR of 10.9%. Growth was supported by growing interest in online shopping, government initiatives and an increasing number of online merchants.
To capitalise on this, major banks offer virtual cards exclusively for online shopping. The availability of alternative solutions such as Digicash, Cashcloud and PayPal is also expected to further boost the e-commerce market.
In September 2018 the Ministry of the Economy launched national e-commerce marketplace LetzShop, enabling local merchants to sell goods online.