Italians remain slow adopters of electronic payments, primarily due to a strong inclination towards cash, which accounted for 78.5% of the total payment transaction volume in 2019.
The country has a comparatively low penetration of payment cards, although it has a robust POS terminal network. The government is making concerted efforts to promote electronic payments through financial inclusion initiatives and a cap on cash transactions, with the EU-wide cap on interchange fees also playing a role.
As a result, a gradual increase in payment card usage was recorded during 2015-19. Payment card market growth has partly been driven by the rise of contactless and the emergence of digital wallets. However, digital wallets still need to demonstrate greater benefits and convenience compared to payment cards.
The frequency of card payments increased from 30.1 times per card per year in 2015 to 39.4 in 2019, and is forecast to reach 45.9 by 2023. The emergence of digital-only banks and strong e-commerce growth are expected to further boost electronic payments over the four-year period to 2023.
Bancomat is the dominant debit card scheme provider in Italy. With 233 Italian partner banks, most debit cards issued in Italy bear Bancomat branding, and are usually co-badged with a major international scheme to allow the cards to be used outside Italy.
Bancomat also offers Bancomat Pay, a digital wallet available to 37 million PagoBancomat card holders.
While Bancomat continues to dominate, international schemes Visa and Mastercard have strengthened their positions. As a result, Bancomat's share of the transaction value declined from 82.4% in 2015 to 70.5% in 2019.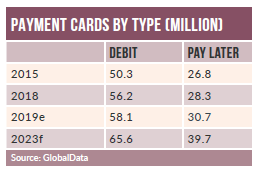 Credit and charge card penetration in Italy is low, standing at 0.5 cards per individual in 2019. Italians prefer charge cards over credit cards in order to benefit from interest free credit periods, while avoiding falling into debt.
Banks offer a variety of rewards and benefits to drive credit card use. Agos Bank offers 10 interest-free instalments on its Visa Agospay Zero credit card for all purchases of €500 ($572.77) and above, while Poste Italiane offers the BancoPosta Più credit card, which enables holders to repay purchases in up to 24 instalments.
The e-commerce market grew significantly from $19.0bn in 2015 to $36.0bn in 2019. Improvements in technology and rising online and mobile penetration have boosted consumer confidence in online transactions.
Italy's e-commerce market is dominated by PayPal, while credit and debit cards collectively account for nearly 23% of the total e-commerce value. With the launch of alternative solutions such as Apple Pay, Google Pay and Amazon Pay the market is anticipated to register healthy growth.