Hong Kong is a global financial hub, with few regulatory barriers for foreign banks and card payment participants. This encourages banks from Mainland China and other overseas markets to expand in the territory.
Hong Kong represents a mature payment card market in Asia, with 26 million payment cards in circulation for a population of just over seven million.
Payment cards are the second-most popular payment instrument in Hong Kong, accounting for 24.3% of the overall transaction volume in 2018. Growth in Hong Kong's card market is driven by paylater cards, which accounted for 67.1% of the total card payment value in 2018.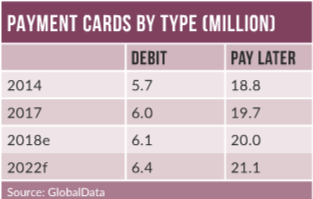 The payment card market is expected to grow further as banks expand in rural areas by launching mobile banking and new physical branches. The Hong Kong Monetary Authority's clearing of the path for the establishment of virtual banks and an instant payment system will only aid this growth.
Pay-later cards accounted for 67.1% of the total card payment value in 2018. Paylater card penetration is high in Hong Kong, with each individual holding almost three credit cards. Banks focus on boosting card use by offering instalment plans, discounts, reward programmes and cashback.
The number of pay-later card payments has registered strong growth in terms of both volume and value, recording respective CAGRs of 8.6% and 5.9%.
Hong Kong's e-commerce market grew significantly during 2014-2018, recording a CAGR of 15.1%, prompting many companies to launch online and alternative payment solutions. PayPal launched its One Touch fast checkout service in November 2017, and Mastercard and Visa launched their respective online payment solutions, Masterpass and Visa Checkout, in 2015. Alipay, WeChat Pay, Google Pay, Apple Pay and Samsung Pay have all also entered the market.

Hong Kong consumers are avid prepaid users, with the average individual holding five prepaid cards. This is mainly a result of the popularity of the Octopus Card, which is held by the vast majority of the territory's citizens. Initially launched for public transport, the Octopus Card is now widely accepted at convenience stores, restaurants and supermarkets. In December 2017, Octopus partnered with Samsung Pay, allowing Octopus card holders to make contactless payments via Samsung Pay.
Alternative payments are gaining traction, with leading international brands Apple Pay, Samsung Pay, Google Pay and Alipay all present. Samsung Pay launched in Hong Kong in May 2017, allowing users to make purchases at participating stores with Samsung devices at all forms of POS, including magnetic stripe, EMV and NFC.
In February 2017, HSBC launched the PayMe solution, enabling users to make free transfers to other PayMe users or individuals with a bank account.