Hong Kong is an important global financial hub, with few regulatory barriers for foreign banks and card payment participants. This encourages banks from Mainland China and other overseas markets to expand their presence in Hong Kong.
Though predominantly cash-dominated, Hong Kong represents a mature payment card market in Asia, with 26 million payment cards in circulation for a population of just over 7 million.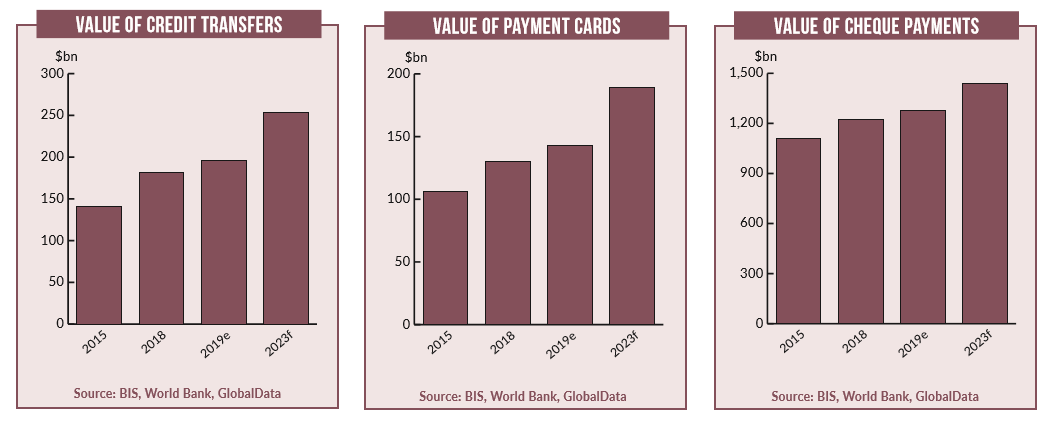 Payment cards are the second most popular payment instrument in Hong Kong, accounting for 27.8% of the payment transaction volume in 2019.
Growth in Hong Kong's payment card market is driven by credit and charge cards, which accounted for 76.3% of the total cards in circulation in 2019. With the government and local banks striving to provide banking services in remote areas – as well as expanding banking infrastructure through the introduction of mobile banking branches, new physical bank branches, and the establishment of virtual banks – electronic payments are anticipated to increase over the next five years.
Credit and charge cards accounted for 67.9% of the total card payment value in 2019. Hong Kong has the highest credit and charge card penetration among its peers, with each individual holding almost three credit cards. In this mature market, banks are focusing on boosting card use by offering instalment plans, discounts, reward programmes and cashback.
The number of credit and charge card payments has registered strong growth both in terms of volume and value, recording respective CAGRs of 12.2% and 8.1% between 2015 and 2019.
Debit card market 
EPS is the largest debit card scheme provider in Hong Kong. Established in 1984, it is a consortium of 20 major banks including Bank of China, HSBC, Citibank, Standard Chartered and China Construction Bank.
EPS cards are now accepted at over 30,000 merchant locations in Hong Kong and Macau. To increase uptake, EPS offers the EasyCash cash-withdrawal service, allowing cardholders to withdraw cash at stores while making purchases. From March 2018, it also enabled senior citizens to withdraw cash at post offices and at over 300 stores without making a purchase.
E-commerce growth
Hong Kong's e-commerce market recorded a CAGR of 13.6% between 2015 and 2019 – supported by rising mobile and internet penetration and low investment costs. This growth has prompted many companies to launch online and alternative payment solutions in Hong Kong.
Credit cards are the most widely used payment method for online transactions. Meanwhile, alternative payment solutions such as Alipay, PayPal, Visa Checkout, Google Pay and Masterpass are increasingly being used for online purchases.
Prepaid card market
Hong Kong consumers are avid users of prepaid cards, with each individual holding an average of five. This breadth of use is mainly a result of the popularity of the Octopus card. Initially launched for public transport, the Octopus card is now widely accepted at convenience stores, restaurants and supermarkets in Hong Kong.
In April 2019, Octopus introduced the Black Special Edition Octopus card, which can be used for all type of purchases, including in-store, online and transport payments.
Improved infrastructure 
The number of POS terminals recorded a CAGR of 4.1% between 2015 and 2019. As a consequence, the potential for card-based payments in Hong Kong is expected to grow.
To improve the local payment infrastructure, in September 2018 Hang Seng Bank launched a comprehensive all-inclusive POS terminal, Hang Seng One Collect. The solution enables merchants to accept payments via credit cards, contactless, QR codes and mobile platforms such as Apple Pay, Samsung Pay, Google Pay, WeChat Pay and Alipay.
Payment service providers are also launching mobile POS readers for SMEs. Advanced Card Systems launched the AMR220-C1 wireless mobile POS reader in July 2018. The solution was developed in compliance with EMV, Mastercard PayPass and Visa payWave, and works with both mobile devices and computers.