Greece was severely affected by the eurozone crisis, due to government overspending, tax evasion and a budget deficit that spiralled out of control.
Many banks faced liquidity problems and loan defaults, which directly impacted the cards and payments industry. The government announced a number of initiatives to revive the economy, including cuts in public sector employment, defence and other spending, as a result of which the country registered real GDP growth of 1.0% in 2017 from -3.2% in 2013.
The country received conditional bailout packages from the International Monetary Fund, the EU and the European Central Bank. Conditions included capital-control measures in June 2015 to arrest the outward flow of money.
Other measures included curbing tax evasion, encouraging electronic payments, and restrictions on ATM withdrawals, use of payment cards abroad, and funds transfers from Greek to foreign banks.
Greece GDP growth
A key measure was the compulsory acceptance of card-based payments by retailers and certain categories of professional, such as doctors, lawyers, electricians and plumbers.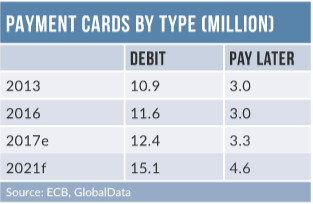 With the forecast economic revival and the injection of liquidity into the banking sector, the Greek payment card market is expected to gradually shift towards sustainable growth, at least until 2021.
Debit cards remain the preferred payment card type, accounting for 90% of the total payment card transaction value in 2017. The introduction of a new regulation in June 2017 making it compulsory for private companies to pay employee salaries through a bank account will further drive debit card penetration.
Major banks including Alpha Bank, Piraeus Bank, National Bank of Greece and Eurobank all offer contactless debit cards. With economic uncertainty and rising unemployment, banks were forced to adopt a cautious approach to issuing credit cards. This resulted in a decline in the number of pay-later cards issued up to 2015.

However, with capital infusion and strict austerity measures adopted by the government, the economy and the banking sector are gradually recovering. Growth in the job market is also making banks more confident about credit, and they are now in a much better position to extend credit than five years ago.
E-commerce in Greece grew from €2.8bn ($3.3bn) in 2013 to $5.6bn in 2017, and is forecast to reach $7.5bn by 2021. Banks now offer cards exclusively for online shoppers, such as the Mastercard Prepaid Virtual Card by Piraeus Bank.
Alternative payments such as VivaWallet, my Alpha wallet, and Masterpass are also increasingly used for online purchases. Growth in the number of prepaid cards in circulation can be attributed to factors including their growing popularity among the unbanked population, and the better control of expenditure they offer.